Warriors, if you're all into IM, and if you're treating WF as the only source of income (which I don't think it's a wise decision to do so), then you got to read this.
I've done a little testing in my WAR ROOM free report, and one thing I found out was, a lot of people still don't really know what were the recent changes that happened in here – WarriorForum, and what impact could those changes possibly result to us marketers, to maximize our profit if we were fully utilizing all of those features brought in by Allen.
What has been changed in the WarriorForum within the past few months, up until the past few weeks? – Pay attention to these few details below, it's quite useful if you don't already know or realize the benefits for each of these features.
Few of those part below, were being extracted from my WAR ROOM free report. I've deleted some parts because it seems a little bit spammy if I didn't do so.
Here you go:
1) Banner Signature: Adding Image To Your WF Signature.
Price:
It's only $60 for ONE FULL YEAR! The ROI for your investment would be very high, I could say.
Check out the source for this information in
HERE
.

Here's a
video
contributed by a senior warrior named
Craig Desorcy
. It shows you how you can easily upload your image to your WF signature area.
When this feature was first rolled out, there were not many people picking it up, despite of the powerful potential of this new feature.
I was among the first few hundreds of people who took advantages of this new feature, and the result was (and is) not bad, I can see the powerful benefits of this feature!
Here's why:
Think about it, all of those who are using a link in their signatures, are receiving a lot of benefits for sure (or else they are not going to use it, right?). I am not talking about spamming the forum to get the signatures exposed.
I am talking about those respected marketers, who are using their signature to maximize their exposure for their offers, sites, blogs etc, in the forum.
Whenever they post a good comment or good post, people look at them as a person whom they can trust, or whom they can learn something from.
In return, people will more likely to click on their signature, to check out their sites, blogs or whatever they have to offer to the public.
I'm relatively an unknown person in the WF. Yet, I was able to make a total of
$1117.46
using ONLY the ordinary text style signature in WF, over the course of 10 months, in the year of 2010 alone, promoting another product.
I know that's not a lot, but the point here being,
IT WORKS!
So what do you think the effect would be, if there's something different in your WF signature area? Maybe an image?
Umm… You mean I can possibly get more eyeballs viewing at what I have to offer in my WF signature area?
Yeap, you got it right
Like what I've mentioned, I was making $150.90 within 48 hours after my banner signature goes live, on the 10th of November 2010!
For only around 100 clicks, I made 7 sales in total, I got one refund out of the 7 sales, and I've made a total commission of $150.90!
How easy was that?
So, if you're a regular poster in WF, I personally believe that, this is going to be a good feature for you to get more exposure in the forum itself.
If you're not a regular poster, you might want to start to think about contributing to WF by posting more useful stuff, such as sharing about what you're good at… share with others, you'll eventually get things back from your contributions.
My banner signature looks like this when I was promoting a Kajabi-Style Wordpress Launching Theme:

2) Article Forum Subscription: You can now submit articles to WarriorForum's articles section!
Price:
It's only $60 for ONE FULL YEAR!
Check out the source for this information in
HERE
.

Here's where your articles will be placed into:
WarriorForum Article Section
.
Check out the
article posting guidelines
before you start to post any articles.
The only drawback for this section was, you can only post articles within the niche of these categories: Internet Marketing, Offline Marketing, such as: Design, Hosting, Autoresponders, Copywriting, SEO -
Anything related to marketing both online and offline
.
Obviously, no affiliate link is allowed, but you can definitely link the articles to your own sites, blogs, etc.
Personally, I haven't got the chance to use this POWERFUL feature introduced by Allen.
However, based on my observation, I can say that this is another powerful feature offered by Allen, and a few people in the WF already adding articles in the WF at this moment.
If you're targeting the online marketing, internet marketing, offline marketing kind of niches, it might be a good idea to keep on posting articles in the WF articles section.
Here's why:
2a) WarriorForum has a high PageRank (PR), at least higher than most of our own sites.
It can rank for some keywords in those niches mentioned up there in a very short amount of time. It gets pick up and index by search engines faster.
2b) WarriorForum is visited by lots of unique visitors per day, and also there are currently around 200,000 of members in WF.
The combination of traffic shown above can easily bring you a lot of visits to your articles, and also to your sites, if you're linking the articles to your sites or promotions.
You can even link it to your own WSO in the WF itself, for example!
2c)
Another senior warrior, Tiffany Dow has contributed two posts where WF owner Allen grabbed them up and stuck them on the top area of the articles section.
Post 1:
The Value of Using the Warrior Forum's New Article Marketing Section
Post 2:
Internet Article Marketing for Massive Website Traffic
2d) I've tried to check out our fellow warrior Dr. Mani's articles. At the time I was typing this report, out of 50 articles which Dr. Mani has posted in the WF article section within 10 days period, there was a total of 1930 views counts onto all of those articles!
Isn't that powerful? Now, think about it again,
Dr. Mani
is also having the banner sig under every one of his articles.
It's all about exposure, all of these are actually very powerful advertising stuff, PPC-in-the-CHEAP-mode, I would say
WOW! Aiden, are you telling me that, if Dr. Mani is promoting some other high quality stuff in his banner signature, and maybe 10 of them click on his banner signature and 1 of them buy something from him, he's going to make more money from that too?
Why don't you tell me that, I don't have the answer for you…
Yes, I guess it works, and I guess it's worth more than $60 PER YEAR, it's definitely a GOOD YEARLY INVESTMENT!
You're sharp-minded… and now, what if over the course of one year, more and more people are reading the articles, from all over the search engines, and also if the people inside the WF itself, are reading the articles as well? Don't forget that WF itself has around 200,000 members up to date. Even if 10% of that amount of people read those articles, it's still going to be a very good amount of deal for a mere $60 of yearly investment!
Stop teasing me, Aiden, where's the payment button for this article subscription feature?
LOL... I didn't tease you. It's all facts. You can subscribe for the yearly payment plan in HERE.
3) Affiliate Program Listing: Where product owners can easily get affiliates to promote their products, and affiliates can choose what they wanted to promote, without going through any intensive searching!
Price:
Product owners, it's only $100 for TWENTY FULL YEARS! Yes, you read that right, 20 years!
Check out the source for this information in
HERE
.
If you have a wide range of stuff in the internet marketing (a.k.a IM) or offline marketing market to be promoted, I can't think of any other better places to list your offers to targeted IM-driven affiliates like those in the WF!
Look, if you are indeed a product owner, and you have multiple products scattered around ClickBank, PayDotCom, PaySpree, RapidActionProfits, original $7 Dollar Scripts or some other marketplaces for your affiliates to promote, you might not get the maximum effect which you were trying to achieve.
There are only three powerful affiliate-recruiters which I've ever came across - where I can recommend you to look into learning about.
The first person that I get to know about, who's having a STRONG backend sales funnel, and having multiple products to be promoted, is
Ryan Deiss
. You can join his affiliates' list and check out how he's offering the commission to his affiliates. CRAZY.
The second person which I've personally joined his affiliate network and look through his sales funnels and the series of his products to be promoted, would be
Lee McIntyre
. Just like
Ryan Deiss
,
Lee
is offering lifetime commission to all of his affiliates who is promoting all of his products. Not only that,
Lee
is also crazy to offer a front-end commission of 200% higher than the original price (of $19.95), to encourage his affiliates to push one of this high quality front-end product, so that they could make more in the back-end products, once the buyers were being cookied or tagged.
Another "smaller" scale product creator that I personally have been talking to, who has very similar sales funnels like
Ryan
and
Lee
had, behind his front-end business, is no other than our WarriorForum's
Oz
(a.k.a
SMS
). Though
Oz
's lists might be "smaller" compared to
Ryan
's and
Lee
's, he has SUPER responsive lists.
What are the similarities between these few product owners?
3a) Good affiliate system: All of them offer lifetime commissions for ALL of their products under one roof.
Let me give you can example, let's say, you're an affiliate of
Oz
(a.k.a
SMS
), and you send your visitors to one of his FREE download page. The visitor was being cookied, and tagged, and also downloaded the FREE stuff. The very next day, the visitor buys a product. You will get credited for your affiliate commission.
Three months after that, without any promotion, without sending any emails, and without any communication on your part, the visitor read something useful in
Oz
's blog and buy something which is under the same roof with all of his other products. You will STILL get your commission credited for the products sold!
HOW POWERFUL IS THAT?!
3b) Sophisticated sales and affiliate tracking system: They either use InfusionSoft or Nanacast.
Previously, those were the only 2 common sales and tracking system that I know in the market, which can do things such as the lifetime commission tracking + under-one-roof commissioning system.
However, recently there's another similar but much more powerful kind of sales and affiliate tracking system + marketplace handling platform were born.
I can almost guarantee that you've never heard or use this platform before. Nope, it's not PayDotCom, it's not PaySpree, it's not RapidActionProfit or RAPbank.
Aiden, could it be the DigiResults platform which you've mentioned up there earlier on?
See? I told you that you're having a super sharp brain! Yes, it is!
I'll let you know about the main features + benefits of DigiResults
on page 24 of my free WAR ROOM report
, including the fact that you can promote CLICKBANK & PayDotCom product using this awesome + advanced sales tracking tool and platform, and still getting your commissions credited to you!
Go and signup for DigiResults now, before others do, and tell everyone about it in your site, your blog, using your affiliate link!
I am of course happy if you can do so, and we can get along and discuss about HOW we can improve this service (
Andy
is openly taking opinions and looking into implement as much powerful features as possible), by suggesting more and more useful + powerful features to be implemented into DR.
3c) The 3 of them don't mind paying their affiliates FAST, and ON-TIME.
DigiResults
offer
real time instant commission payment
to affiliates, and it can go as high as 100% for Paypal payments!
That's what I like the most! I got my commissions literally right after the visitors bought those copies of
Andy Fletcher
's WSO previously!
That's basically how those 3 person that I know, growing their customer base, getting leads, and growing their businesses!
WAIT! I have something even better to tell you!
Have you heard of any other normal marketers talking about 2-tier affiliate programs? I know I have only heard of it once, in the IM industry, from Russell Brunson. The other time I've heard about this, is from a forex affiliate program, where they promote big ticket products.
Aiden, I don't think this is going to work, especially if we're going to promote some low-ticket products.
Hmm… I guess so, if you're using ClickBank as your sales platform, that might be the case, and I doubt that ClickBank has that kind of feature altogether!
The concept works like this. Say today, I bring in John to buy a product of Company A. I got a commission, maybe 50% of the original price.
John thought that the product was brilliant, and joined as an affiliate. He is now promoting Company A's product too. Once he made any sales, he got the commission of 50%, and I will get a commission from John's sales too, maybe 10% from the original price! What if there's a NETWORK of vendors offering these kind of 2-tier affiliate systems?
Can you see the power of the 2-tier affiliate system?!
Aiden, stop teasing me again, please! How can I get hold of this information?
My friend, I'm not teasing you, the fact is, this is already out there, I cannot explain this to you in a better way than my friend Oz does. I mentioned about this on page 23 in my free report. Oz explained everything about how you can earn lifetime commissions on all purchases from all vendors made by all referrals from all affiliates in your team!
Good grief! I have never heard of anything like this in my life.
So, again, let me re-iterate:
As a product owner
, you may want to pay your affiliates on time, and fast. You can try to take a peek at how
Ryan Deiss
,
Lee McIntyre
and also
Oz
run their businesses, how do they treat their affiliates and why their affiliates love them! Learn from them!
As an affiliate
, you want to join affiliate programs like the ones I've mentioned above, to maximize your profit out of your promotional efforts.
As an affiliate
, you don't want to join affiliate programs like those in ClickBank, where the vendor might be thinking of getting rid of you after you have brought them the leads onto their LOW-PRICED front-end product. That way, they can pay you once, and kiss you goodbye. They will never have to pay you for their future profits earned from the leads you brought in!
Not every one of those ClickBank vendors are evil ones, but you just have to be careful and upfront, ask them whatever you think that could help protecting and rewarding your efforts.
I saw another senior warrior in WF,
Dennis Becker
, the owner of Earn 1K A Day forum (or better known as the "
5 buck guy
"), who is also listing his affiliate program in the WF affiliate program listing area.
He is using Nanacast as his sales and affiliates management platform too, that means he is also offering full lifetime commission over a wide variety of his products, under one roof!
This is the kind of affiliate program you want to look for, as an affiliate!
I am personally a member in
Dennis
's forum, so I know that he is doing his best to look after his affiliates!
4) Banner Ads: Get more exposure by getting a banner ad to be placed on top of the WarriorForum (except for the WSO section).
Price:
It's only $100 for one full day! There are some other options like the $600 for 7 days package, but the $100/day option is the most common one.
Check out the source for this information in
HERE
.
Before you start to do anything with your banner ads, maybe you want to read
this post
beforehand, to avoid violating any rules and also to avoid any confusion.
Every approved banner ads will appear at the very top of WarriorForum page. It's well worth the $100/day investment, in my opinion.
The image below contains a banner ad posted by fellow warrior
Super Affiliate
(a.k.a
Joe
).

Personally, I have yet to use this banner ad feature but I will, in the near future, when my own product is launched.
As you and I know, this is an internet marketing forum, there are
not less than
3000 visitors visiting WarriorForum at any given time, think about how many impressions and clicks you are going to get, if you're advertising on the very top part of the WarriorForum?
For $100, this is a GUARANTEED TARGETED IMPRESSION and GUARANTEED TARGETED AUDIENCE kind of advertising. It is a steal at that price!
The image below contains some simple ad statistics posted by
Joe
.
His stats are not super high, but he has some very realistic ROI. After all, the banner ad was running all on automatic mode…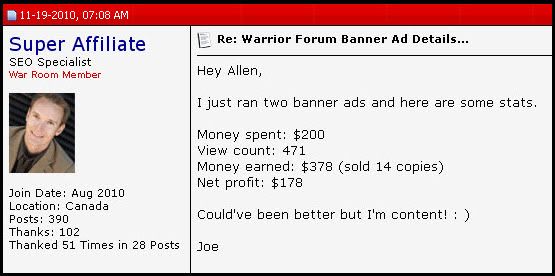 What amazed me was NOT the front end net profit of $178 which Joe has made. Look at Allen's words of wisdom
5) Text Ads: Google Adwords kind of text ad feature. It appears under every last post of each thread's pages (except for the WSO section).
Price:
It's only $40 for ONE FULL WEEK! The previous option was $30/day option, but for some reason, Allen has changed it to $40/week! Seriously, it's that cheap!
Check out the source for this information in
HERE
.
You can start to add your own WF text ad on
this page
.
Here's how you can go into the page where you can add the text ad in WF - within each and every thread, under the last post on the page, there will be a row of text ad, under the right corner of the third text ad, there's a clickable link named: Ads By Warrior Forum. That's where you can access to the text ad adding page.
Look at the image below and you'll get what I meant.
I've tried this out when it first roll out. The last text ad shown above, was mine.
My result wasn't so impressive at all (I tested it for $30/day, but it's now $40/week!).
I was promoting other people's stuff, where I was sending visitors who clicked on my WF text ad, redirect the visitors to my own blog post, and then presell them from my blog post.
I have never run any PPC ads so this was a huge challenge for me. I don't know how to write a short ad copy that makes people want to click.
I've seen a few people saying that the text ad wasn't working that well for them.
So you want to run your text ad only if you have some solid offer to run or test.
That's all I can think of, at this moment. I hope you find those information in this report useful and you're going to put what you've learned into use.
If I were to share with you a few more ideas that could fuel your internet business bottom line profit, utilizing the techniques, methods and tools I've outlined above, what would you do?
Would you take action and implement them in your business? I'd love to hear your feedback.
Does this help?
Aiden Chong
P.S. Please comment below or thank or whatever, I would really love to get some constructive feedbacks from you.