Predictions For Business & Career

---
Often people go on without a moment of rest!
By the end of the day some are satisfied and many are still worried and wondering about their business...
Today, you can find answers to your deepest questions and peace of mind, because one of the best psychic and spiritual advisers of this world, finally decided to make her gifts and talents available to everyone for much less money than many other less expert psychics online.
That's right! My name is Hemera when I work as a psychic and I am an expert Tarot and Oracle reader.
I was born with a great gift, that for so long I did not know exactly how to use, now I do!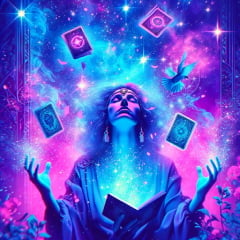 My readings are unique because they are mostly based not so much on relevant dates, hours, precise periods of time in the future, death or health issues (since some of them can always change with the
free will
of the querent being changed),
but rather, I am an expert in providing the spiritual guidance and steps to avoid serious obstacles and to resolve issues.
I can better help working as a facilitator to help you by interpreting the Tarot spread 'reading' for you based on your clear simple question.
PAST-PRESENT-FUTURE influences+ VERY IMPORTANT DETAILS.
You can ask me anything and the cards will answer usually pinpointing to a difficulty or obstacle that needs to be cured before moving on in the right direction, and at the same time, they show clearly all the necessary steps to avoid possible negative unconscious behavior that could put at risk all your efforts.
1-Will you find a peace of mind with your situation?
2-Should you act now or wait for that deal...?
3-What do you need to know about...?
Many are those who are waiting for me to connect and HELP with an important reading, on 3 different Facebook private groups every single day!!!
And I love to help!
Feel free to ask me questions and see what I have to offer today then compare with any other service, please!
The value I offer is priceless and what you pay is only perceived by me as the perfect exchange of energy.
Find me on Fiverr today!
Comments