PLR Selling Tip: Create an eBook [Step By Step Guide]

Posted 21st December 2011 at 04:30 AM by
plrwriter
---
PLR Selling Tip: Create an eBook
Before creating an eBook you will need a plan. First of all make sure you have all the necessary articles you will need for creating an eBook. Let's say have decide to write a book on a very poplar niche 'Yoga'. You go and purchase a PLR article pack for Yoga from your trusted seller. First thing you need to decide is what all topics you will be including in your eBook.
Step by step eBook creation guide:
Let's start with the title. Your title should be catchy and should be able to attract the buyers. There are some words which can attract the users when use properly. So you can try keywords like "Secrets, Secrets exposed, superfast, XX easy Steps, XX days' etc.
So you can name your eBook as
Become a Yoga guru in 7 DAYS!
Notice how I have capitalized the word 'DAYS'?
After deciding the title open up the article directory and have a look at the articles you have got in there. (Look at the screenshot below)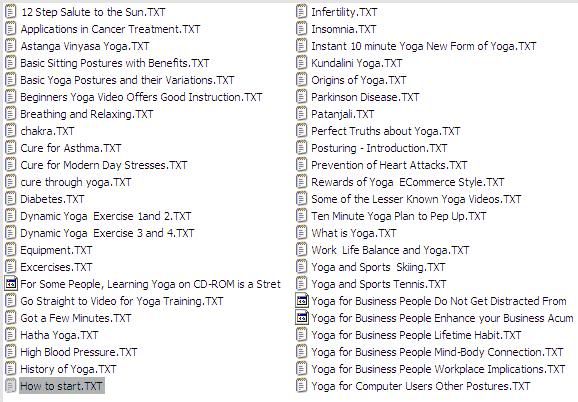 Arrange the articles in logical order and create an index.
It would be something like
· Introduction (what is Yoga)
· History of Yoga
· How to start
· Different types of yoga
§ Chakra
§ Kundalini etc.
· How to cure diseases using yoga
§ Asthma
§ Diabetes etc.
Etc.
The next step is very important. DO NOT copy the contents from your PLR article to your eBook. Read through the article. Jot down main points you want to use and then write them down in your own words. The reason is you want to provide you user with unique contents. You will end up losing your reputation in case the users have already seen these contents somewhere else. Also you want to improve the contents in terms of grammar, typos, quality and make them readable. This way you will get more loyal buyers.
You can also add the topics which are not included in the PLR directory but you think are important. Search the topics on Google or eHow (
http://eHow.com
) and see what more can be included in that topic. DO NOT copy the contents from the websites. Just get the ideas and write it down in your own words.
And at the end, just write a conclusion. Summarize main points you have discussed in your article. Then mention the source if any further reading is needed.
Advantages:
· You can charge more money than selling individual articles
Disadvantages:
· Too many competitors. Including the people selling physical books
Comments