6 Reasons Why Your Amazon Sales May Have Dropped

---
If you're a third-party seller on Amazon then it's likely your sales will vary slightly day to day. However, some sellers can be doing just fine when all of a sudden they'll experience a drop-off in sales! This post will explore some of the reasons why a sales slump may occur and what sellers can do if this situation arises.
#1. Have you lost the Buy Box?
With close to 90% of all sales going through the Buy Box, all third-party sellers who want to be successful on Amazon should be aiming to win their share of the much-coveted Buy Box.
Amazon will rotate the Buy Box between sellers it deems to have met its high standards.
If you're the only person selling your product on Amazon, then you'll be fine (for now).
However, if there are multiple sellers of the same product, then you'll all be competing for the same Buy Box.
If you had the Buy Box and suddenly lost it or it's now being shared between more sellers than before, then this could explain why your sales have dropped suddenly.
How can you see if you're the Buy Box winner?
If you're a
RepricerExpress
customer, you can quickly see your Buy Box performance on the dashboard, including those listings that have recently lost the Buy Box.
Alternatively, you can find this information within your Seller Central account.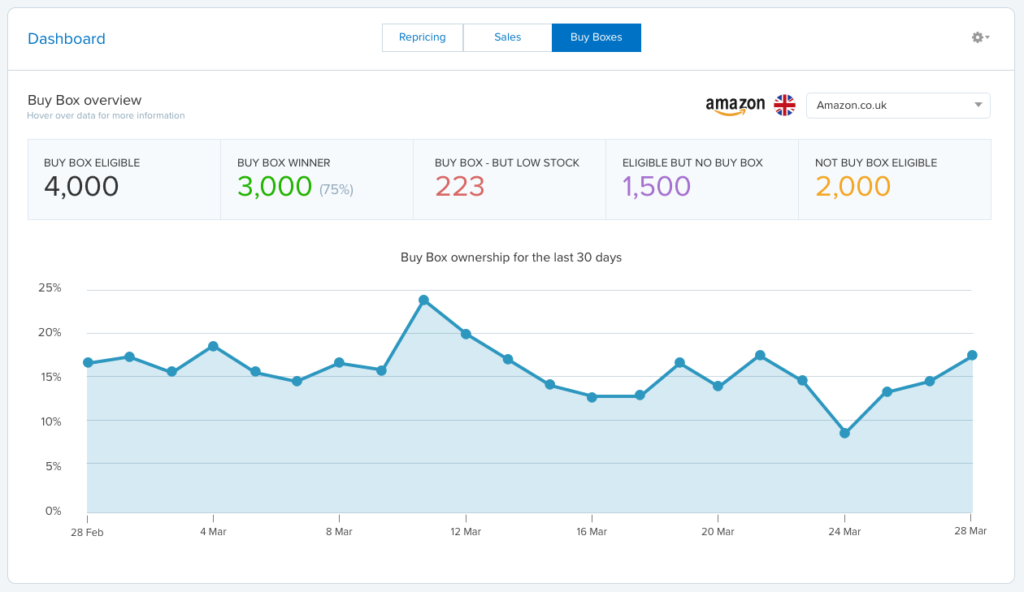 To retain the Buy Box, you need to ensure you're competitively priced (repricing software can help with this) and your seller metrics (including feedback) remain healthy. Which brings me seamlessly on to reason number two…

Related:
How to Increase Your Buy Box Percentage
Read the rest of the article on
RepricerExpress' blog