Profit from the Lucrative Halloween Market Online

Posted 4th September 2017 at 08:37 AM by
wordfeeder
---
Every time someone in PLR puts out something new and awesome, I get psyched for the possibilities. So what's hot this fall? Halloween, of course!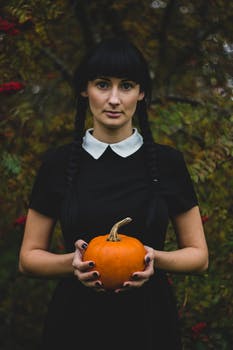 Create the Ultimate Halloween Blog Series. Set it up now so you won't miss the buying frenzy.
Today I wanted to present to you some cool, blog-ready content for Halloween. I'm so excited about this, I kinda wish I had my own Halloween blog!
First - as promised, I snagged a great designer,
Shannon from Appetite for Design
, to create some social-friendly images. Now you can use this lovely content to spice up your blog, and attract clicks and drives sales via your social media pages and groups.
I bundled Shannon's images along with my two Halloween article/blog post sets, into
Wordfeeder's Halloween PLR Mega Pack
. So much added value! We're offering our crammed Halloween bundle for just $27 through Oct. 31. It includes…
PACK 1: Halloween Social Images from Shannon
- 20 in all. Delivered via email and through your Wordfeeder member account. In .jpg and .psd formats. I have little thumbnails on the
sales page
so you can sneak a peek.
PACK 2: Halloween Articles - 5 Total
, including:
Trick or Treat Safety Tips
Treats Not Tricks: Candy Cautions for Trick or Treaters
Trunk or Treat: A Newer Halloween Tradition that Works for Today's Busy Families
Easy Recipes aka Freaky Food and Creepy Concoctions for Your Next Halloween Party
Halloween Make at Home Craft Idea: Happy Meal Haunted House
1,912 words in all. Available in a zipped, single MS Word document.


PACK 3: Halloween Articles (or Blog Posts)
- 10 Total. This one was also released at end of August, and contains the following pre-written blog posts:
Make at Home Gypsy Girl Halloween CostumeDIY Hobo Halloween Costume
MYO Beer Wench - Adult Halloween Costume
Black Cat Homemade Halloween Costume
DIY Variations on the Halloween Witch Costume
DIY Halloween Ghost Costume
Homemade Mr. or Mrs. Potato Head Costume
Frugal Halloween Decoration Ideas
Make a Homemade Scarecrow to Spook the Neighbors (and the Crows)
How to Make a DIY Halloween Ghost Out of an Old Curtain

Word count is 2,683. File is a Word document.
You get ALL THREE PACKS together in our Halloween Mega Pack - for only $27 until Oct. 31.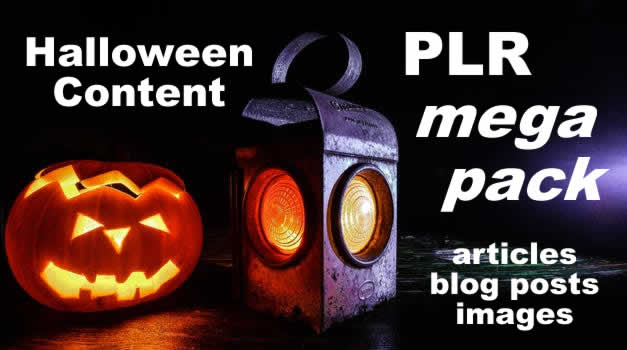 More About This Halloween Content:
In my articles about costumes, I purposely made them NOT costume reviews. That's because I know that people like Tiffany Lambert already have awesome
costume-specific content
for you to blog. I'm all about not reinventing the wheel here, see?
Instead, mine are
DIY basic costume ideas
that you can put together using this and that. For example, the Wench costume. Buy a corset and apron online and pair with skirt and peasant top. Readers can get the corset and apron online via your link. Your wench also needs some plastic pitchers. Assuming she's a beer wench. ;0 Adults only, please.
What if you already bought Wordfeeder's Halloween Articles?
If you already bought one or both of my Halloween PLR packs, that's okay. You can still get the images ala carte.
Just click here
. After you order, log in.
You must log in to find your images in your account
. Don't wait for an email. I didn't set one up!
Next, Grab Your 30 Costume Articles from Tiffany!
If you're going to get all Halloweeny on your blog, you may as well
stock up on costume content
because that's where the money is. Go to Tiffany Lambert for this. Tiff goes above and beyond to offer helpful tips so you set your pages up right from the get-go.
For example, her
Halloween Costume Articles
are written in a special way that doesn't limit you to one link to a specific type, size, and style of costume. So if you blog about say, "Wonder Woman Costume," you can direct your readers to a search for their choice of popular sites - like Amazon, Spirit of Halloween, FindCostume.com and more. Then, they'll be able to search for the exact costume plus any extras they may need, and you still get the paid referral.
Tiffany explains it much better than I'm able to. She even put up a how-to video at the top of her
Halloween Costumes PLR sales page
. While you're there, check out her
$1 per article pricing
on that pack of costume articles. If you buy, the page opens to a steeply discounted offer on even MORE of Tiffany's Halloween PLR. So you really have your Halloween profits all set up for you, thanks to this inspired and detail-oriented writer.
Click here for Dina and Shannon's Halloween PLR Mega Pack
Click here for Tiffany's 30 Costume Articles PLUS BONUS Offer
Click here to order Shannon's Halloween Social Images ala carte
- don't forget to log into your Wordfeeder member account to grab your images.
I hope you'll jump on the chance to market to the profitable Halloween niche while the getting's good. I'm already seeing the spooky deco up in retail stores by us.
Have a great Labor Day. Any questions or problems with your order, please email me!
Comments