Article Selling Secrets Ecourse NOW ON SALE - Learn How to Make Money Writing and Selling Articles

Posted 10th October 2017 at 09:51 AM by
wordfeeder
---
Hey busy marketers!

Happy yesterday Birthday to me, and to all my fellow Libras born on this lovely day of the year. In true web nerd/workaholic fashion, I woke up bright and early at about 4:45, and decided to do the last few hours of work on the
Article Selling Secrets
e-course that I promised all of you nice writer folks who want to make money from home writing and selling PLR.
I've decided to offer you a sweet deal on the course price in honor of my big day. So it's going to be $10 off from today through Sunday, October 15. If you've been wanting to take the next step and get serious about selling PLR, why not do it? That's always been my motto - Just Do It!
Article Selling Secrets
is Wordfeeder's E-Course that Teaches How a Stay-at-Home Mom Can Earn Thousands in a Single Month Writing and Selling Articles Online. File delivered by email in MS Word format, plus each lesson is emailed for 14 days. Unsub any time.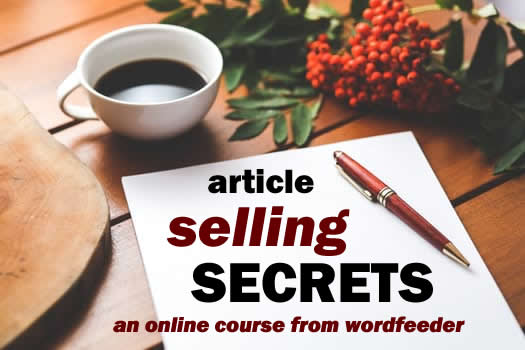 Here's what's included in ALL 14 Lessons:
• The 7 Hallmarks of an Excellent Quality Web Article Essential Elements of a Web Article
• Steps to Writing One Web Article
• Tighten Up Your Writing to Create Stronger Web Articles
• Article Writing on Speed: Produce More Articles in Less Time
• Where to Get Good and Accurate Information to Write a Web Article
• What Types of Sources Should You Stay Away from When Writing a Web Article?
• Articles on Speed: Hammer Out FIVE Articles in a Sitting
• How To Search Engine Optimize Your Articles
• The Quick and Dirty on What You Need to Sell Articles Online Where to Pitch Your Articles So You Can Start Earning from Writing
• The ONE Aspect of Web Selling That Will Push Your Article Sales Through the Roof
After you sign up, and check out using
coupon code HAPPYBIRTHDAYDINA
, watch for a confirmation email from Wordfeeder. Your emailed course will arrive in seconds after that. Download it to your computer to read and implement at your leisure. Or, follow along with the autoresponder version: one lesson will arrive in your inbox each day. You can unsubscribe any time if that's not your thing.
I hope this course will be the jumping point for all you writers who want to focus on making money online by way of your talent, but aren't sure where to start. Also... this is only the beginning! I'm going to create a Part 2 that goes the next steps in upping your PLR success game. Will you be ready? I hope so!
Thanks for being a part of my work life, which makes me smile. I'm having a very Happy Birthday because of you. Oh, and another thing... if you're an affiliate, here's your
link to promote
. If not, you can
sign up here
, and don't forget to activate your PayPal payment preference so I can send you money. Tell all your peeps about
Article Selling Secrets
from Dina at Wordfeeder!
I've listed this course under the Text Links area. So you can grab it right away and
start promoting to your list for 50% commissions
on every sale.
Make it a productive and profitable day!
Comments