CLEARANCE PLR on Summer Safety Articles - Now Thru Oct. 15

Posted 10th October 2017 at 09:59 AM by
wordfeeder
---
Dear friend, Happy Tuesday to you! I was just going through my PLR library when I came across a pack of
15 Summer Safety articles that I released in June
. I'm offering them for a deeply discounted clearance price, now through Sunday, Oct. 15.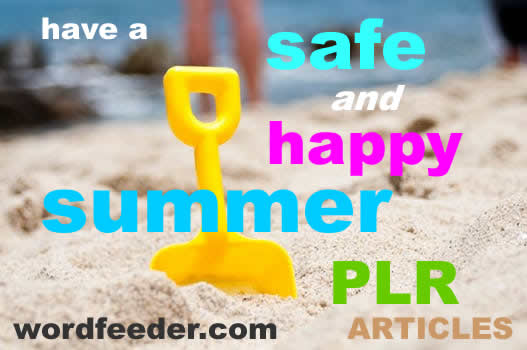 They were originally $15, but I took them down to $7 in June, July and August. Now they're marked down to just $4 (Yes, for 15 articles) through Oct. 15, with coupon code SUMMERCLEARANCE at checkout.
"Have a Safe and Happy Summer" contains 15 articles
covering the following:
1. Summer Safety Tips: Safe at Home and in the Neighborhood
2. Pool and Swimming Safety
3. Beach Safety: Fun in the Sun, Safe in the Surf
4. Summer Camp Safety Tips: Safe Campers are Happy Campers
5. Safe Trip! Tips for Staying Safe on a Family Road Trip This Summer
6. Drive Safe: Rental Car Safety Rules
7. Amusement Park, Zoo and Carnival Safety This Summer
8. Practice Good Safety While Hiking and Exploring the Woods
9. Campfire Safety This Summer
10. Safety While Grilling
11. Avoiding Poison Ivy This Summer
12. Protection from Pests: Avoiding Ticks, Fleas and Mosquitoes This Summer
13. Summer Safety Series: Avoid Sunburn While Out and About This Summer
14. Avoiding Food Spoilage This Summer
15. Summer Time Gardening Safety
I don't know about you, but I love a good clearance sale - that's how I stock up holiday decorations and party goods. So why not grab this deal on really good content that you can stash away like a squirrel hiding nuts for the winter? You can whip them out next June, add some Amazon links, then pop them right into your blog, or send to your readers as an ebook. Then, you'll be all done with your blogging and ready to hit the beach, the lake or the pool!
Last call -
Summer Safety Articles now on clearance
. Coupon code SUMMERCLEARANCE at check out. Get 'em!
Thanks for reading this.
Make it a productive and profitable week!
Dina at Wordfeeder PLR
Comments