Help Me With My Copywriting! PLEEEEEAAAASE!
Ain't this what you here for?
Stoppin' by on this EXPERT forum, looking for ANSAS?
Gotta say, there is plenty cool COPYWRITIN' AMMO stashed around the place, if'n you wanna dig deep -- but if'n you lookin' for a
QUICK READ ... EASY ANSA

then mebbe stay with me for a few minutes.
Cos I gonna get srs, mebbe ansa yr question.
So ... take a look in here ...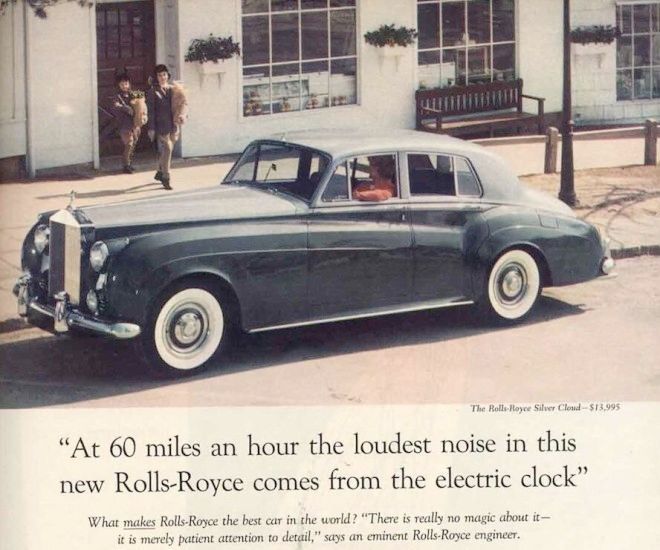 This is classic copy & advertisin' promo, dished from toppa the deck by a revered persuasion MASTER, copied over & over & over & over bcs it so smart.
(An' I would wanna check in on the WF Mods here to be sure I ain't breakin' no kinda rules flaggin' up what might be a copyrighted image, but I ain't sellin' nuthin' here beyond sum kinda expert analysis for the benefit of precisely the people show up on WF lookin' for help, an' I would wanna be thinkin' how the Rolls Royce an' Oglivy people WOULDN'T ACTSCHWLLY MIND TOO MUCH that yet another informed copy person had subscribed to their PROMO LEGEND an' dropped FREE INFO before a confirmed copywritin' forum powerhouse for the benefit of a naive an' desperate audience -- but if that is a praaahblem, jus' getchya tech guys to swap out the VISUALLY IMMEDIATE ILLO for the handy-yet-slower link to PROMO BLAMMO ima droppin'
here
... )
See what this copy says 'bout this car?
Says ... journeys anyplace jus' kinda HAPPEN. Almost in a dream.
You hop in a Rolls, you delivered sweet an' safe an' comfortable to anyplace you choose.
Problem is -- what ifya are a fleabag Princess gal gotta go through her panty drawer evry coupla months throwin' out alla the LUXURY LINGERIE been washed SO CLOSE TO DEATH it got so many loose threads hangin' offa its ass it resembles A ZILLION SPIDAHS?
(That is my personal problem rn -- likely you got some diffrent question you need answerin', like HOW CAN I STOP MY SAMSUNG GALAXY CRASHING? or WHERE CAN I FIND WEREWOLF-SPECIFIC ADVICE FOR ZOMBIE APOCALYPSE SCENARIOS? or HELP ME WITH MY COPYWRITING! PLEEEEEAAAASSSE!)
For sure, I would LOVE to cruise around evry vista in a Rolls an' take in that forevah luxury experience.
But I don't got that kinda cash, I don't got them kindsa needs -- so I ain't intrested.
So does that mean any sales promo gotta be dumbed down to suit my loser ass?
As in ...
He he he ... she too poor to figure luxury travel in a Rolls as would perfectly suit her regal persona ... so let's make her feel REAL BAD about buying tampons or panties or clothes or books because CLEARLY these reveal to her that she is merely a CONSUMER and not an INDIVIDUAL & FREE-SPIRITED PERSON making cool choices about the future she wants, starting NOW, moment at her fingertips.
But tbh, as a copywriter, I figure nailin' any kinda transformative bliss -- material to spirityool -- don't evah mean I gotta invite nowan to shell out a zillion dollars on any kinda cleverly marketed vehickle product before'n they experience a similar excloosive an' perfect happiness to any billionaires cruisin' out in Rolls Nirvana.
Point 'bout copy is how it offers steps forward from whereya are now, while huggin' you sweet for bein' the person gotchya all the way to here, an' says ... aw c'mon, let's fix up sum more of that trooly neato stuff so you can really swanky out free an' true.
That is why ima lookin' in on an Amazon listin' for a 3-pack panties offer rn.
I ain't got time to go into town, I can't hang on no longer for lacy exotica as might infuse my workaday moments with potential MWAH MWAH MWAH ... so this offer works.
For Moi.
RN.
Pitch me a Rolls -- I ain't intrested. Even if sumone dug Ogilvy up an fixed a salesy
BUY NOW
pitch packin' color from HIS ACTSCHWL SCARLET BRACES.
Thing 'bout the panties deal I seen is ... nuthin' on the clock.
Sounds neat, they look dinky, fit my scrawny ass -- so I click, I buy, ima sorted by mebbe Monday.
Point is , catch me when ima lookin' for panties deliver the same kinda FYOOTURE the Rolls ad promises -- for sure I wanna see what's gowin' on, an' you got my 30 bux that day, that moment.
Like anywan, I wanna be pulsin' out on fyooture momentum -- startin' where I'm at, fueled by where I been.
Rolls to lingerie to
OUR VETERINARY EXPERTS GUARANTEE TO DELIVER YOUR SNOWFLAKE TEEN'S HAMSTER THE LAST DAYS IT NEEDS TO ENSURE CHRISTMAS IS NO TOTAL FRICKIN' MISERY FOR EVRYWAN
-- you gotta pitch to whatevah people srsly wantin' in on their fyooture story.
Anyways, that is the 3 minute read.
Longer, GIFT-WRAPPED version is
here
.
Plz don't nowan say I ain't GENEROUS.