On the Internet, nobody knows you are a dog
Dear Internet Marketers,
You may get offended, but I really don't care as long as I am right.
Most of the so called 'internet marketing experts' are barking on their official blog on how they can help their audience make quick money online.
This adage by Peter Steiner summarizes what they think of their readers:
But do you know what exactly readers think of these bloggers: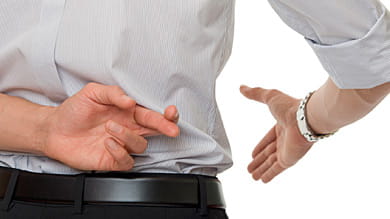 ("You are fluent in lies, excuses and bullshit").
And there is an uncomfortable truth - Not all bloggers always lie about making money online, however almost all readers are rightly skeptical about stories they read about online money making options.
This becomes a big challenge for an authentic marketer to sell useful services to relevant buyers.
Is there a solution: a big NO. Period.
However, marketers can certainly do few things that can change the game in their favor.
So guys, please pay attention as these secret tips are not something you will find everywhere. I am not going to write how to do this. I am going to tell you something that will build your authenticity in your readers' mind. It will increase your sales and along with you, it will make your clients richer as well.
It's a WIN-WIN Situation for your audience and you.
So, let's get started:
Hold your horses
The moment I land on to your website I see you screaming like anything. You are in a hurry to take my email id and give me something so useless that I don't even bother to look at it even it is freely delivered into to my brain.
So, wait for a moment and configure your bots so that they offer something I am really looking for and not the garbage you bought from an awfully cheap writer.
Make that beautiful 'F' word a reality
Don't be a nice, deceptive genius. No one cares about how much you know and earn or your luxurious lifestyle.
Become a true 'F'riend of your audience. Your true friends never ask for your private contact details or keep chasing to take something for free or buy something. They advise you. They help you when you need them the most.
This is what exactly you need to do with your readers. If someone comes to your site looking for how to attract traffic on their website, then don't jump into providing '5 outrageous techniques that helped me go from 0 to 1million+ traffic'.
I am sorry to say that your readers know that you are lying. Some of them may even provide their fake email ids (people, including me, make such email ids just to download material but they never read the mails again) to download your ebook. But at the end your conversion will be merely be at a ZERO or a spectacularly 0.01%.
You may scream that you had a conversion rate of 25-75% but hello, I am a marketer too and somehow know the reality. In the hindsight you also know the truth.
So let us be honest at least with ourselves. Making friends and giving genuine advice to readers on their request or requirement is a better approach than becoming another popular 'F' word. You know what I am talking about.
And it is time for the 'S' Word
Social and Security are the not so new buzzwords. But unfortunately most of the online sellers still don't get it right and leave better first impression to their users.
See website of any social media company, and in 90% cases you will find their website look and feel antisocial. Remaining 10% will display hopeless icons of social network with a fantasy that users will click on them and share it. Some of them go further and set a good number to show that people are sharing the blog.
Unfortunately, none of these techniques are going to add any value to your website.
So what should you do:
Put an interactive forum and link it with social media. Incentivize readers to participate in that forum (please I beg you not to give that rubbish Free E-BOOK as an incentive). To begin with you can create some fake IDs and put some common question asked by your clients during a sales call/email. Again, please don't use a cheap freelancer to search for FAQs and write the answer. Rather write some real questions of your existing customers, identify their pain points and write pointed answers. At this point you can hire a good Freelancer to edit and proofread it. Once your writer/freelancer will get acquainted with your style and content, you can outsource further questions and answers. However, you should do this only after you have gained some initial traction.
(Sorry guys there is no substitute for hard work).
Well, after all the hard work here is an easy option that must be done along with being social. You should purchase a Trust Badge from third party providers and prominently display it on your website (and not in the footer).
Finally, you should know that trust can be destroyed instantly but can't be acquired instantly. So while you have to be very careful in building the trust you have to do it continuously and forever. Even if you have been seen as trustworthy business you need to make continuous efforts to sustain it. As someone has rightly said:
"Trust takes years to build, seconds to break and forever to repair"
--
Yours Truly,
An Internet Marketing Expert