This Traffic Tip Sucks, Just Don't Abuse It.;)
Ok, the title is just a friendly little play on words related to this post as you'll see in just a moment. It is a neat free traffic tip that you can use at will. It's perfectly legitimate, however, in order to preserve it for everyone, you should be responsible when using it.
Here it is:
There's a website called,
Amplicate.com
where users can share opinions about everything under the sun. They have pre-defined communities in a variety of categories, and they also allow user-generated communities ranging from the obvious to the obscure.
Each category, whether pre-defined, or community-defined, has 2 sections that are labelled, "Sucks" or "Rocks". You can post DIRECTLY to these from their website (and have it pushed to your Twitter/Facebook acct, as well), OR, you can post directly to your Twitter account and if you use any of the following phrases, Amplicate will automatically pick it up and post your tweet to their site (do not include the quotes!):
"i love" (keyword)
"i hate" (keyword)
or
(keyword) sucks
(keyword) rocks
It took literally 10 seconds for my test comment on Twitter to post to the Bebo sucks section at the following link (since its time sensitive, the comment is at May 2nd):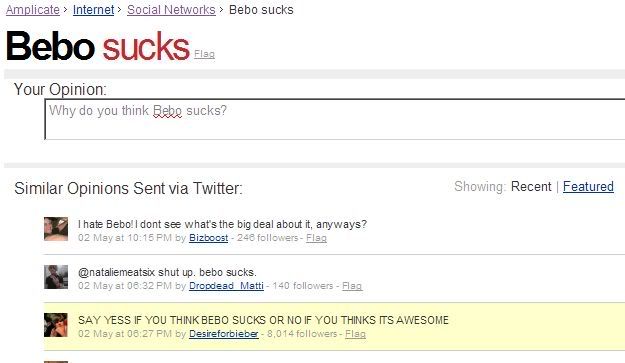 Now, how did I find this? Follow me here, because there's so much benefit to this that goes even beyond the Amplicate site, if you can grasp it.
The latest "phenom" in the consumer-hive world, Fiverr.com, looked just too good to be true. So, I Googled, "
Fiverr sucks
" and
Amplicate
came up first. When I visited it, I stopped caring about Fiverr, for the moment, but immediately started mind-crunching all the traffic potential.
So, I went and Googled, "Fiverr rocks!" and, interestingly enough, the #2 position for both "Fiverr sucks!" and "Fiverr rocks!" was the same guy... and I had just seen him on both sections at Amplicate (btw, I'm not insinuating his position in Google was due to his activity at Amplicate, only that it convinced me he was playing around with it).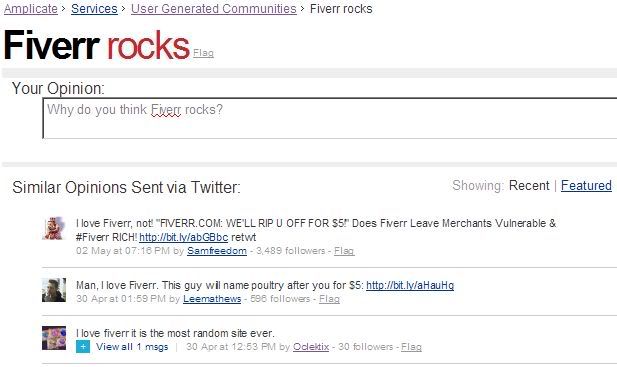 Here, it seems he's already figured out what I've just figured out because he says, "I love Fiverr, not!", in order to get his anti-Fiverr comment, and link, into the "Fiver rocks!" section where his target audience REALLY is. Those in the "Fiverr sucks" section, would already agree with him. And, in the "Fiverr sucks" section, he posted directly, anonymously, which became obvious after clicking the link.
I sense many possibilities here...
Note:
1. I have not yet had time to completely explore the possibilities here. In one tweet, I tried BOTH "Fiverr sucks" and "Fiverr rocks" and it only picked up the first one. I also tried a whole bunch of categories with "rocks" and "sucks" at the end, seperated by a filler word, and none got picked up.
So, it seems to post each tweet only once to the first legitimate category it finds.
2. I did not explore possible filters at Amplicate like if they were suddenly picking up multiple tweets from you at a pace they considered too fast. Or, if there's people actually moderating them, but I doubt there's moderation because in the ABC tv section, I found some pretty racy tweets using words most of us would not let by.

Benefits:
1. I don't know if there's any backlink juice from direct opinions, or not. I doubt it but, then again, who knows. I just haven't had time to explore but there's a definite clickthrough potential. And a definite natural search potential.
The more that people discover Amplicate by searching for what sucks and what rocks, the more they'll spread the word about Amplicate. The more that Amplicate spreads, the more people will look for what sucks and rocks via Google. As you can see, I'm writing about it now, in a forum with many users, so it's going to keep growing because people like to give their opinions, and people like to read others opinions. And, people like free advertising where they can include their links.
Conclusion:
I think there is a huge, untapped windfall benefit here for the right people. Traffic from Amplicate doesn't have to be a swarm for there to be a benefit, as we know that just one visitor with a lot of reach can kick off a swarm of traffic if they like what we have to say and share it with their friends. And since Amplicate is free, and tweeting is free, there's no harm in exploring this opportunity responsibly, especially since they allow anonymous commenting, AND a tweet takes only 2 seconds.
Any other ideas as to sites that pick up posts, etc, via a trigger phrase? What do you think?
Best wishes to all,
Eric