Is Making Money Online is in a BOOM? & Why 98% Will Fail...
One thing I have a particular interest in is how patterns in the stock market are linked with patterns in society.
For example, when the stock market goes up
skirt lengths get shorter
(compare fashion sense in the 1930s depression to the swinging sixties (a boom time) and the 1990s (a boom time). Another one is
horror movies becoming popular
during and after a decline in stocks (think the horror movies of the 1930s, 1970s and the past couple of years).
So I'm always looking out for trends, and here is one I came across...
Interest in Making Money Online Rises When Stocks Fall...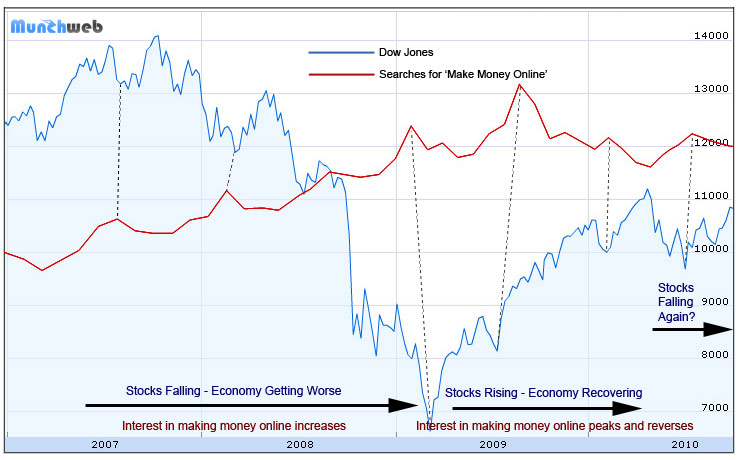 That graph certainly is not conclusive, but certainly shows the possibility of a link. I talked about it in more detail on Munchweb.com.
What Does This Mean?
Essentially as the economy does worse, more people look for alternative ways to make money, and many look to make money online.
Ultimately though in my experience the majority of people who attempt to earn a living online fail. From personal experience about
98% of people fail
to make a full time living, and I know a lot of people here on WF would agree it is around that percentage.
With even more people looking for ways to make money online, and likely being more desperate due to tough times, online scams and misleading gurus will be able to
make more money by misleading newbies
.
Also with more people trying to make an earning online there will be more potential competition
making it harder to break into the online industry
.
If the economy does get better then it is very possible this trend will continue.
What do you think?