How I lost $107.13 and 6+ hours Of my life, but gained a great marketing lesson
So, I decided to do a little marketing experiment.
Here is what I did
selected a cpa zip submit offer (pays 1.20 per lead)
created 500 half a page sized flyers on bright yellow paper
placed flyers on cars condos and anything that wasn't moving
Here are my results after 9 days:
1 completed email zip submit that payed me 1.20
It took me maybe 5 hours to place all the flyers
Only got shooooed out of one walmart parking lot
Here are some pics of the flyer, cpa network tracking and a wee little pic of the receipt from fed ex kinkos where I made the flyers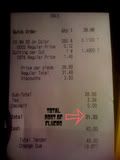 So lets break it down:
So 1.20/ 5 hours = 0.24 per hour
cost of flyers 31.33
time to set up site 1hour
5 hours of my time * $15/hr. = -$75
So what did I learn
Sometimes things just don't work out the way you plan
The condos I went to all had dish-network satellite dishes on the porches. (Maybe a dishnetwork offer might work it Pays like $325 per lead)
if you don't try, you never learn
Those 60 year old rent a cops at walmart run alot faster than you think :p
Marketing is all about testing
So here is the real reason for opening myself up for ridicule-This Question:

How would you take online offers and bring them offline?
Any one with real world results out there? Please leave a commment