How To Pick Great Products With Less Competition
I thought this would be a helpful information to share, from Matt Carter blog.
::::
Hi guys,
Whether you're an affiliate or selling your own product, it is important to know what to look for or include in a sales page in order to be successful.
Most affiliates who promote products from the Clickbank Marketplace tend to just jump on board high gravity products.
Sure this is a pretty good way to tell that a product is selling but then you will face the issue of higher competition. So why not learn the skills to assess a low gravity product, that has potential to sell, and where the competition is not as fierce. This can be a smart approach for some easy wins and great commissions.
So in this post I am going to provide an overview of crucial aspects to look for when considering promoting a new product, and of course these same principals apply if you are creating your own product too.
If you are in the Clickbank marketplace low competition can be indicated by low gravity, but it is vital to take a very close look at low gravity products before deciding to promote them, to make an assessment of the likelihood of them having a great conversion rate.
0 Key Aspects of a Great Product
1.) Scarcity
It is a well known fact amongst experienced online marketers that the use of scarcity increases sales. A lack of scarcity can reduce sales by up to 40%, so it is a vital ingredient to look for in a product.
Scarcity can be used in a variety of ways, however the most popular being time based. A great sales page may state that the price has been reduced until a certain time and will be increasing soon.
If you have been online for sometime you can become accustomed to this tactic, and think to yourself that this doesn't work, and falsely assume other people also think this tactic is bogus. However this is the trap that a lot of people fall into when they gain more experience.
The problem is that they forget what the average Joe thinks, because the fact is that testing shows that this type of scarcity actually works, so be aware that not everyone thinks like you do! So with that said a great product will employ scarcity in their sales page.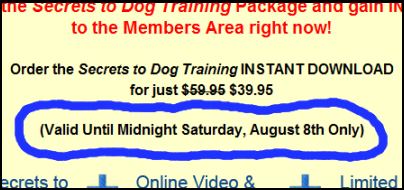 2.) Benefits and NOT Features
You would think this is a no brainer, but you'd be surprised at how many products on Clickbank try and sell their products on the features and not the benefits.
Benefits selling is a proven tried and tested sales technique that works! So why are some merchants neglecting to do this? Perhaps a lack of experience or understanding of key sales elements, either way feature based selling does not work as well as explaining the benefits to a customer.
Here's an example for you of a candle making site that is selling on features: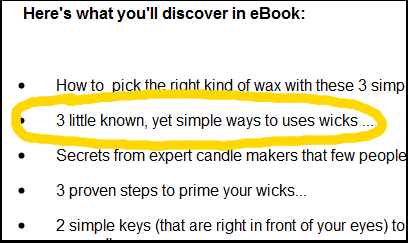 This is an ebook that teaches people how to make candles, and if you look at the line I have highlighted in yellow,not only will you notice a grammatical error, but the focus is on features. Now I don't know much about candles, however to illustrate the point, this could have been written in a benefits orientated way, like this example:
"3 very clever tricks for using wicks that will allow you're candles to burn twice as long"
Here's a good example of a Spanish product that sells on benefits: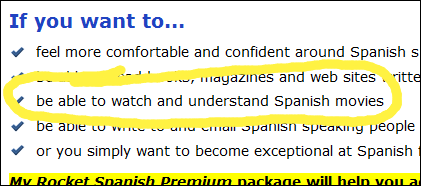 As you can see this example tells me that I will be able to watch Spanish movies and actually understand them, which is a great benefit, rather than saying there are 30 great audio lessons.
3.) No Table of Contents
For some reason you will find ebooks that decide including a table of contents on the sales page is a good thing. Don't ask me why!! I assume it has come from the fact that Amazon have the ability for customers to view inside their books. However notice that Amazon don't make this link very obvious.
This again is trying to sell a product on its features, and as mentioned above is not the best approach.
Here's an example of what I mean: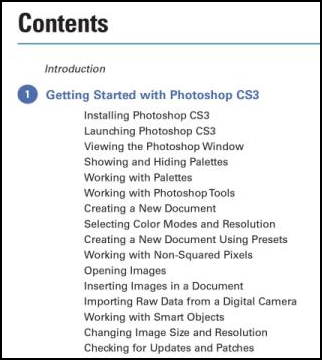 4.) Testimonials
I always make sure that a product that I am selling has testimonials on the sales page. Some people respond extremely well to testimonials. Just so you know this type of personality is known as 'Amiable', and people who lean strongly towards this trait will buy products a lot faster when they can see that other people are having success with product already.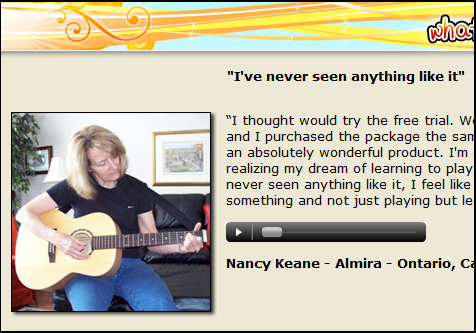 5.) Avoid Adsense
If you see a sales letter that has Adsense or a Google search bar included then this usually means that the merchant is struggling to make sales and therefore is trying other ways to monetize the site. Alarms bells should go off when you see this happening as you do not get any commission from these ads, yet you're the one driving the traffic!!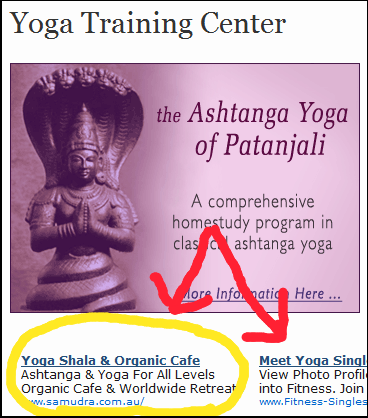 6.) Strong Headlines
A great sales letter will have a powerful benefits driven headline. This is absolutely crucial, as a poor headline will not encourage the reader to carry on and read the page. If you are paying for traffic as an affiliate a page with a poor headline can reduce conversions and of course your profits as an affiliate
Here's an example of a great headline:

7.) Strong Guarantee
If you are promoting a Clickbank product they are required to have a 60 day money back guarantee. However if creating your own product, or perhaps an affiliate through another network, then make sure the product offers a strong money back guarantee, as this increases conversions significantly.
8.) Great Look & Feel
I know the old saying goes
"Don't Judge a Book By Its Cover"
but I will be honest and say I think I still do to some extent. If I see a sales page that has graphics that look like they were made in the 1990′s then I just don't get the same reassurance about the product. So as part of your assessment of a good product consider the look and feel and what your first impressions are.
This page looks pretty good to me!!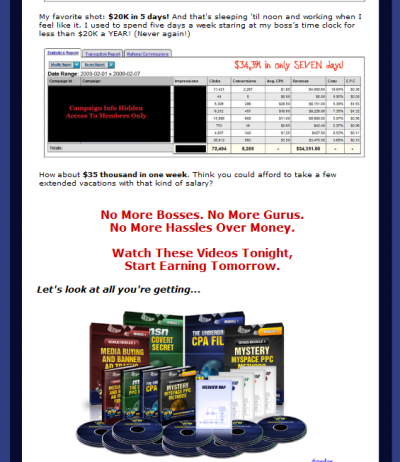 9.) A Little Help From Amazon
Another point and perhaps one of the most important, is to check that a niche you are considering is selling already.
A great way to do this is to go to Amazon and search for books in that niche, and if you find ones and their are positive comments left on them (that are in at least in the double figures) then this is a good sign and means this is a healthy niche.
You could then consider promoting an E-book on Clickbank with low gravity, if of course it passes the screening of the previously mentioned points above, or you could make your own product.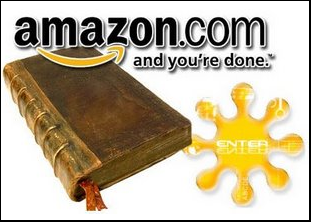 10.) Exit Grabber
You may be one of those people that hates exit grabbers, however the fact is that they do increase conversions, and therefore although not essential, is something to consider as another great aspect of a strong product.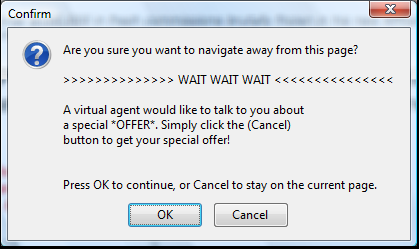 11.) Do the Maths
I know I said 10 points, but I just can't help but add this extra one and make it 11.
Make sure that the product has a decent enough payout for affiliates. Some merchants are wise and payout 75% commission, and this is a great thing, especially if you are paying to drive traffic to a merchants site. Products that have lower commissions mean the margin for profit when using PPC is smaller.
This is something that you NEED to consider if you are focusing on PPC, because if your commission is $25 and you work on a 1% conversion rate, then just to break even you can't spend more than 25 CENTS a click. However if your commission is say $30 dollars then you can spend 20% more on clicks to break even.
Now of course you want to be in profit don't you, so make sure you do the maths before launching into a new campaign.
Summary
I have listed these 11 points to help guide you when choosing a product. If you are a Clickbank affiliate following these guidelines can help you assess if a low gravity and hence low competition product, has potential to be a cash cow for you.
If you are making your own product then you should make sure your product has these aspects to encourage affiliates to get on board.
However please keep in mind that a product doesn't necessarily need to have
ALL
of these points, but the more the better!
Happy selling.
Cheers