People adding me to Facebook Groups w/out permission are pissing me off (here's what to do)
I don't use Facebook much but I've got way too many quote/unquote Facebook "Friends" (I used to just approve anyone who requested to be friended in the beginning)...
The problem: Anyone who you've friended on Facebook can
add you to any group they create without your permission
. Facebook's default is that you start receiving emails from posts to that group unless you manually disable email notifications from each individual group (that you didn't want to be a part of in the first place). This is currently happening several times a week to me right now.
For people who use Facebook solely to stay in contact with personal friends this isn't a problem. But if you're in the same boat as me, here's how to remove yourself from these groups you get added to, and hopefully teach these obnoxious self-promoters that using Facebook Groups as a spam tool isn't appreciated: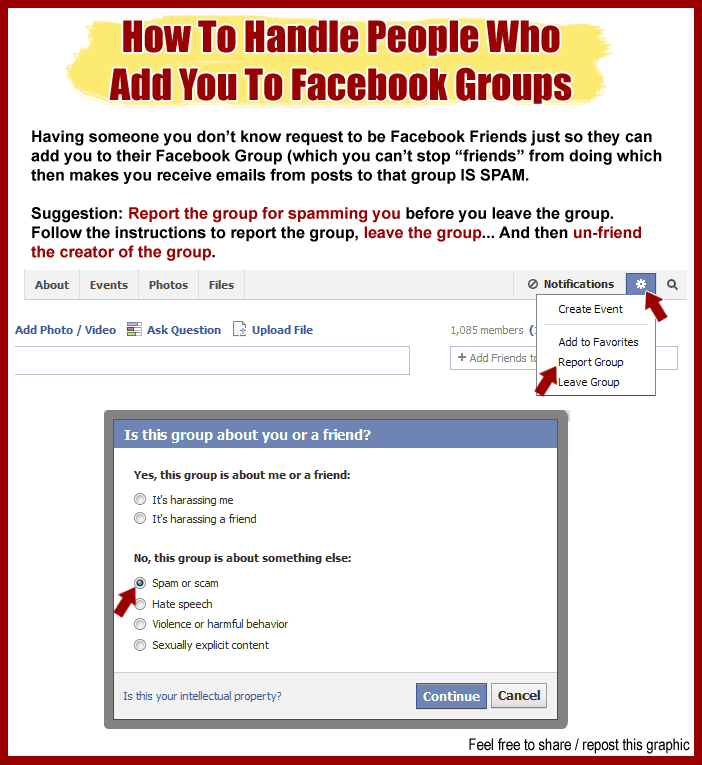 Here's a link to the above graphic to either download or link to:
http://internetmarketingcourse.com/i...kgroupadds.gif
I'm pretty sure if the result of someone on Facebook adding 1,000 "friends" to their group without permission gets them 1,000 spam/scam complaints, they'll think twice about it next time.
-Tim
PS - If you're one of the people doing this (building your Facebook Friends list so you can trick them into getting added to your Group)... stop.