Here's How to Make Money With Political Elections
I love to collect unusual ways and out of the box ways people are making money. Here's just one idea.
With election fever rising rapidly here in the U.S. in the final months of the election, here's how you can make some good money in a short amount of time. You can also apply this to future elections I the US or other countries.
Here's how one person did it in past elections.
Gene was pretty apolitical until then president, bill Clinton's finger wagging and "I-did-not-have-sex-with-that woman" speech sent him over the top.
He didn't just get mad, he created a homemade anti-Clinton protest sign and stood on a busy Florida street corner 3 days. Although almost all the comments were positive, on the last day he actually got attacked by a detractor. Although the attack gave him a bloody nose it turned out to be the best thing that could have happened to him.
His story appeared on the evening news and soon his phone was ringing off the hook from people who wanted to protest with him. He became so driven he decided to start looking for ways to turn his passions into a business. On a whim he came up with a parody of a commemorative postage stamp. His first one was a caricature of Clinton behind bars in a prisoners uniform. "Jail to the Chief."
It was followed by "Queen Hillary Stamp", Jesse Jackson "Keep the Hoax Alive" and many others. Then he turned his stamps on former now recalled California governor, Gray Davis. During the height of the Calif. rolling energy black out, he created the "No More Grayouts"
stamps.
Then he came out with a complete line of John Kerry "Flip Flop" products.
Here's an example: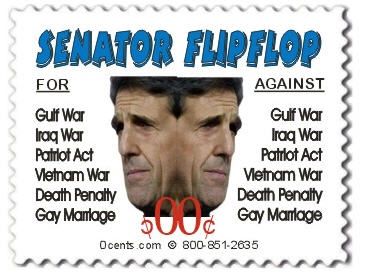 You could come with an unending number of ideas for stamps, bumper stickers t-shirts and other similar items. With political season heating up you could also support your favorite cause or candidate, get lots of publicity for it and make some good money. Or you could be politically neutral and come up with funny products that zing both sides.
The more outrageous you are the better the chance of you getting some good publicity for your products.
Today with sites like Zazzle.com it's easier than ever. You can create your own online store of items like these in minutes. In fact take a look. The current top sellers are political in nature.
I hope this gives you some ideas.
Ron