Okay, so I officially broke $100 this month from amazon! I know its December, but the niche I picked isn't too.... Christmas focused, so I am expecting the site to be right around 1/2-2/3 of the earnings from here on out.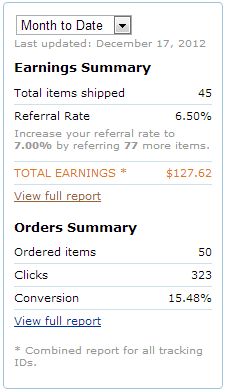 I am going to start another site in a sister niche, because I can clearly make money with this! Anyways just wanted to share my earnings, and I also had a question, I feel like there are not any good WSO on how to promote amazon, they all promise thousands, and they don't layout a good review template...anyways how much does everyone feel I would have to earn for it to be worth it for me to release one since I am still newer around here. Basically I am tired of shelling out money for azon WSOs that only give me a piece, I have built my own method from a number of different places....
MY other thought is selling amazon reviews here, but IDK how successful that would be.
Feedback please?