3 Desperate Buyers Niches And My First Paypal Orders - screenshot
Hi Warriors,
I finally started making sales from paypal!
Wait, not so fast... here's what happened. I promise that you gonna get something valuable outta this.
I'm sure you can profit from it too! ;-)
Not long ago I got the boot from my job as a waiter, Happy New Years to me! what a nice welcome to 2013... me and my cat mr Stooge were on a diet for a while. I decided to start selling some old antique stuff from the basement on ebay, after that, I sold my precious Canon DSLR camera too... wait, I need a minute here........ ok, I'm fine now.
I read here in the WF that people were making some good moola selling digital products on eBay without having to pay shipping fees?? I said how can this be... yes, you guessed it, they were sending ebooks via email or via download link.
I was aware of the terms and rules of eBay that says not to send digital products via email, but as the middle child and rebel that I am, I decided to risk my 100% positive feedback account, so I went for it! screw it!
Besides, mr Stooge dared me.
I started making some nice extra green *grasshoppers* and they hopped straight into my paypal account. All 3 products I sent via email and not a single beep from big poppa.
I couldn't believe it! from January through to now everything went fine. I was selling 3 digital products that people desperately wanted a solution to.
Take a look at my first orders...

Then I started getting more and more orders showing up on my inbox from ebay notifications! I sorted by "subject" on my inbox program and took a screenshot below so you can see the orders that came in almost everyday: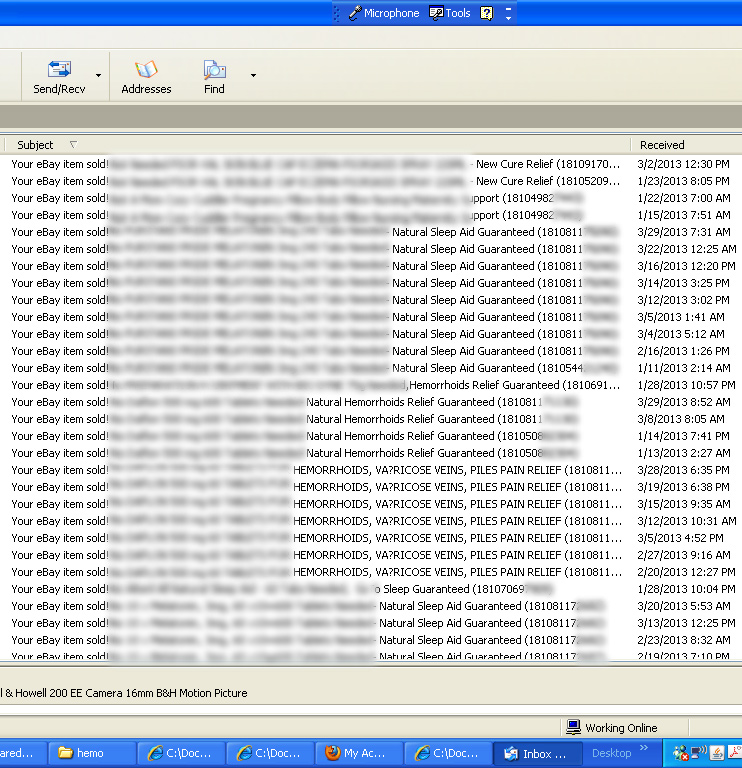 I was very happy for a while looking at this money coming in, and relieved that I didn't had to leave my house on my PJs and pay overpriced gasoline to get me to the post office and back... plus pay crazy shipping costs and use my tongue as a licking device on the liberty bell! Yuck...
Suddenly, everything went up in smoke!!
I was using some grey-hat tactics on my ebay auction titles to get more targeted buyers, but eventually ebay caught on to this and took down my listings.
Oh well, it was worth it anyway! it took them nearly 4 months to notice this and get on their radar. : -)
At least it was only about my "weird" title technique that they slapped my hand for, and not about shipping via email. As long as you're careful, they don't really seem to care about enforcing that email-send rule.
I was banned from selling on eBay for 7 days, 5 more days to go. Then I can resume posting again. But without my title tactic thou, which i loved, I might get less targeted clicks to my listings and maybe less orders. We'll see.
The reason I blurred the screenshot above in some places is to hide my grey-hat title method. But I'm sure some of you might know what that method is. ;-)
If you're thinking about selling ebooks on ebay this way, make sure to make the sales letter SUPER MAGNETIC for higher conversion ratio.
Now that mother goose and my golden eggs are on vacation, I gotta think hard for my next step. Whether to continue on ebay or get a website for my niches.
I mean, it wasn't a job killing money that I was making there but at least that extra income from ebay helped me out a lot. Along with my part time job of course.
Here's another important key when selling digital products on ebay:
Use a price increase scare, but also use the *EXACT DAY* that you will increase it. Example,
The price is going up from $11.50 to $21 on Tuesday April 16th! This is not some marketing ploy, I'm really changing it this Tuesday the 16th.
Don't make the increase date too far away, like 30 days from the present time. I always use 5-8 days max, 3 days is really REALLY good too. You gotta keep revising (updating) the auction for this of course.
Also, always use 1 year guarantees, and in bold capital letters:
***ONE YEAR MONEY-BACK GUARANTEE!***
At the top and bottom of the page, this creates believability right of the bat. Can you say KA-CHING!... :-) :-)
Here's one of my niches as an example below... I researched and created this product myself because there were no PLRs online for this one, I covered up the headline and my ebook's name for obvious reasons.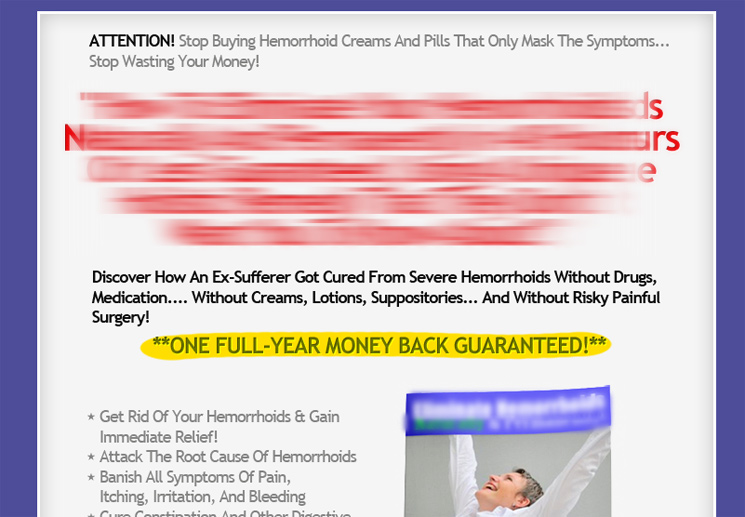 You can do the same too, sell niches that people desperately need a solution to. There are hundreds out there! I was only doing three, and only had 4 listings live on ebay!
If something is not selling for you on ebay, look at other sales letters online in your niche, and read the bullets and sub-headlines etc that your offer doesn't have and re-write it in your own words into your sales copy. And keep building it and adding until you get a consistent stream of orders.
Another thing, I recommend posting as
Buy It Now
with the "cancel" until you decide feature, which means you can just leave it running 24/7 without the auction ever expiring. 3 months could pass and your listing is still live.
It only costs 50cents per listing for one full month! If you only make one sale a month you're in profit like 1000% percent! ;-) And since you're not paying for shipping or CDs you keep all the profits! Aside from ebay and paypal fees of course.
One important point, don't use the word "ebook" on your sales letter. Use manual, guide, report, etc. To be on the safe side, if you like you can copy-n-paste this magic words below on every listing to keep Dracula away, is like wearing garlic around your neck... ;-)
-----------------------------------------
Terms and Conditions
Product format: PDF.
Shipping: Your product will be shipped to you via USPS First Class Mail. (1- 4 days)
Shipping & Handling: Your CD will be shipped to you within one business day. I ship daily except on Sunday.
Return Policy: 365 Days Money Back Guarantee.
Feedback: Feedback is important to both of us. I will leave you feedback after receiving yours. Please don't give me negative feedback. If you are not happy, contact me and I'm sure we can work something out.
Note to eBay: I'm an authorized reseller of this product. This list complies with all eBay rules and regulations. "I will send this item by postal mail. Sending this item by email or by any other digital delivery method is not allowed and violates eBay policy."
This item will be shipped on a CD/DVD.
The images on the listing are for demonstration only.
The title of the item will be inscribed on the CD/DVD in text as shown below.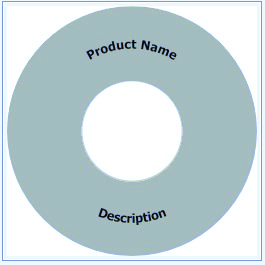 ----------------------------------
As soon as you get a sale, simply email them the ebook as an attachment (from your gmail or hotmail to their email), and tell them you can ship them the same ebook via regular mail if they want to. Nobody ever replied back and asked me to ship it. As soon as you email it, make sure to
mark their order as "shipped"
, so that ebay knows you *mailed it* and get paid.
That's putty much it.
I really believe that selling info products that people REALLY desperately need is a great idea... because you don't have to try too hard to sell it. I only had 3 different niches and I was getting a sale almost everyday, some days I got 3!
Test prices, but never ever sell it for $1-$3 bucks, don't do it unless you're building some sort of list. Start high and if something doesn't sell, first try adding more proof and content that I told you about, and keep testing it.
DON'T SETTLE too easily. KICK SOME ASS BABY!
I'm not telling you to break the ebay rules here, is up to you what you wanna do. It took eBay 4 months to catch up to me about my weird grey hat titles, and just because I still haven't gotten busted on the send-by-email ebook, it doesn't mean you can't get busted at some future time.
I'm actually seriously thinking to get off ebay now, and just sell it on a regular website and drive traffic to it. And adding a paypal button at bottom of the page. Why wait until I get caught or get banned on ebay, right?
I loved selling products on Facebook, but I got banned from there because I was using coupons from Fiverr to add adverting credit to my ad account. I thought I fixed that but then they banned me again.
NEVER EVER jeopardize your good standing with Facebook, trust me. At least ebay they warn you and temporarily halt your listings, but FB is very unforgiving.
I'm good at writing sales letters and doing photoshop digital artwork, I looooveee that. Lucky for me eBay was there. Well, barely as of now.
Let's talk about the niche about hemorrhoids for a second, I was looking for a PLR pre-written ebook about it on PLR reseller websites, I even joined memberships in some of them, but i DIDN'T FIND ANYTHING about that niche!
There were clickbank products about it but I couldn't use that in the auctions. That's when I had to research and write the ebook and sales letter from scratch myself! I even did the ebook covers. Which I'm very proud of.
There are so many terrible PLR ebooks out there is not even funny!
Let me ask you this...
Have you ever thought about selling a PLR product but when you read the ebook it's so horrible and vague and a piece of cr*p that you changed your mind about selling it to the public? My conscience wouldn't let me sleep at night if I sold a crappy product.
That's why I wanted to write the ebook and add great content, and talk to readers like a real human being and not like some cold heartless robot. And with actual proven and natural remedies to help them.
My other 2 niches are about insomnia and skin problems. These 2 PLRs I didn't create myself, but I optimized the content and added extra bonuses to create more value.
I also created its own ebook covers with different names. Plus, I optimized the sales letters a bit. You can do the same with pre-written content.
Now that eBay has their eye on me, and Facebook is no longer an option for me, I feel that maybe I should sell my ebooks as a PLR package or creating their own websites. It costs money so I'll see what I can do to get it going.
This way I can make some extra marketing moola to promote my niches outside of ebay.
PM me and let me know if you're interested in starting a business venture.
Wow, I didn't realized how much I wrote! time to go to sleep...
I hope I have given you ideas or at least a nugget of info to help you brainstorm for ideas on how to make more money online. As long as you and I don't give up, and we share our successes not matter how big or small, I sincerely believe that our financial freedom will follow up sooner or later.
Feel free to share below the first time you made bank online, or anything else you want to share about Ebay, Facebook, niche marketing, or anything else.
Have a great night!
Ernesto