Postcard Marketing Works!! I Ran a local EDDM postcard campaign, here are my results!
Hey Warriors!
I haven't posted here in a long time, been busy with one of my clients. I've been working with him for the past few years and to make a long story short, he took on a business partner and things went south. So he had to start over and build a new bakery.
The grand opening was set for November 4th, 2012 and we needed ways to generate traffic to the bakery.
So I proposed to offer a "groupon style" deal for the grand opening day. We would offer 2 different deals. The first deal was for 50% off the entire purchase (must present coupon in store) and the other was but 2 loaves get one free (must present coupon in store).
I also gave him instructions to
make sure the employees to save all redeemed coupons and to ask for email sign-ups.
I told him this would help us track the ROI of the campaign.
I became a broker for a local print shop so printing was SUPER cheap!
I would encourage you to become a print broker if possible. It really does offer another opportunity for revenue.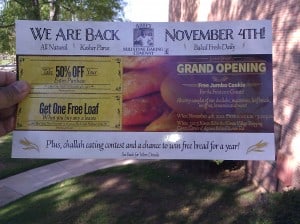 We printed 5,000 6.5"x12" postcards
, bundled them and prepared the facing slips with our targeted zones.
We ended up only mailing 4,000 postcards.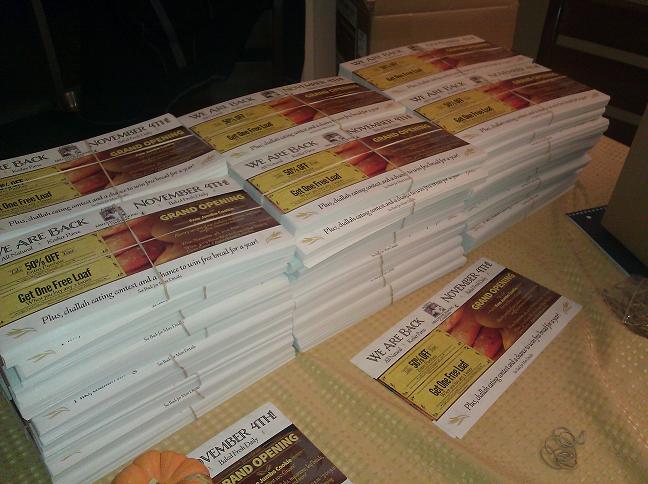 Full disclosure
, I did also recommend my client to join the local chamber as I know chambers like to do ribbon cuttings. They also ran a single full page ad in the local newspaper (the acorn) which has a circulation of about 144,000. This might have had an impact to the numbers that day.
Also, I'm developing his website (ecommerce) and just created a simple landing page style for opt-ins. It's responsive for mobile devices, making it easier for mobile savvy users who are at the bakery and want to opt-in using their mobile device.
The Numbers
Ok, so the outcome is both rewarding yet frustrating. My wife and I were out of town on a marriage retreat my church held in Palm Springs. So, I was only able to make about the last hour of the grand opening.
I remember being a little nervous about the grand opening while in Palm Springs. My wife and I talked about it over dinner at Babe's BBQ (that place has the best bbq sauce, it's not even funny! lol).I didn't know what to expect as it was my first EDDM campaign.
The grand opening was from 11am-3pm.
We arrived about 2pm to find the bakery just about
CLEANED OUT!
People were still coming in and out.
I found Abby (the owner) and he looked dead tired. He gave me a hug and said they had
well over 600+ people
there and that people were elbow to elbow in the bakery. They wanted to open up at 11am but ended up opening their doors at 8am! People were already showing up at 8am!
I was excited and wanted to check the progress of the redeemed coupons and opt-ins.
So I spoke with the main employee who was working the register and asked how many coupons have been redeemed so far.
She said "We had a lot! I stopped counting after the first 25 coupons". Sigh.......
Yes folks, she stopped counting and collecting redeemed coupons after 25 and started giving everyone 50% off!
There goes tracking ROI.
Ok, so now I asked if she had been asking for email subscribers. And thank goodness she asked all customers for their emails. We actually did really well in building our
email list of buyers
.
She told me the completed email opt-in forms were in the back office, so I went back and found this.
A BUCKET FULL OF BUYING SUBSCRIBERS!!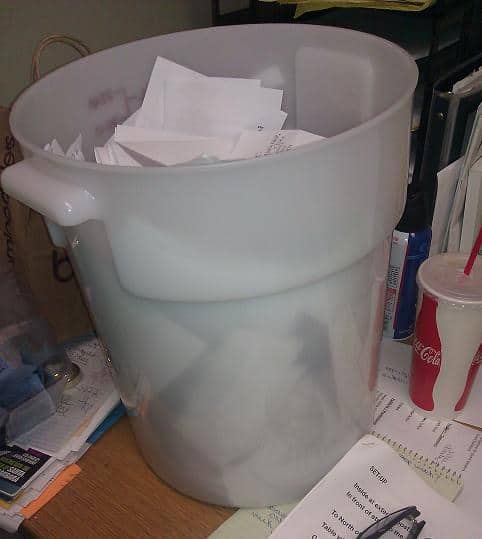 All filled out by our buying customers!!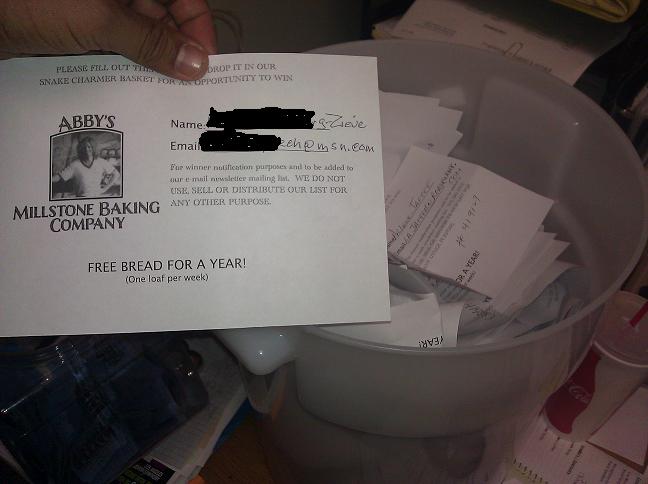 Good stuff!!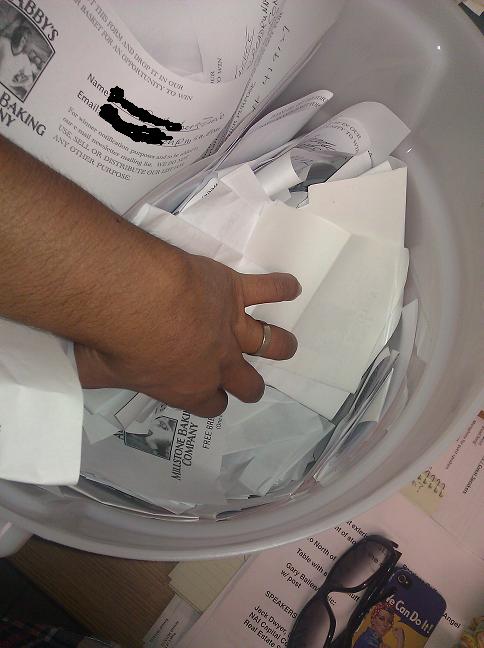 So, we have still not finished the spreadsheet but so far we have over 300+ email subscribers from in store opt-ins. We had another 100+ email subscribers online that day and another 140+ who entered our online contest.
All in all it was a great day, I just really wish the coupons were collected and saved. This would have made an awesome case study.
There will be more postcard campaigns to come and I'll make sure all redeemed coupons are kept.
The Breakdown
Mailed 4,000 EDDM postcards
In store opt-ins = 300+ so far
Online opt-ins on grand opening day = 100+
Opt-ins via online contest = 140+
Try EDDM!
You can't go wrong with the current price of .145 cents per home.
Again, we also did run ONE full page ad in the local newspaper and held a ribbon cutting, so I'm not sure how much impact those had on the numbers.
We'll be running another postcard campaign soon and I'll be sure to share my results here again.
Anyone else have any results with EDDM? Any pictures they can share?