How search engines came to be
Search engines are arguably the lifeblood of the internet, and I personally use them 70% of the time. They are usually your internet browser's default home page. So let's take a look at how search engines started.
1990
Archie is the first search engine created by students Alan Emtage, Bill Heelan, and J. Peter Deutsch in 1990. Archie downloads the listings of files located on public FTP sites, which then are created on a searchable database. It had limited space however, and only the listings themselves were made available.
1991
Two new Gopher-based search engines were created, Veronica and Jughead, named after the Archie comic book. Veronica is a backronym for Very Easy Rodent-Oriented Net-wide Index to Computer Archives" searched for file names stored on Gopher index systems. Jughead, meanwhile, stood for Jonzy's Universal Gopher Hierarchy Excavation And Display and was used to obtain information from specific Gopher servers.
1992
Tim Berners-Lee (known for creating HTML and WWW) created the World Wide Web Virtual Library or simply VLib. It was the first content index on the Internet, and was hosted on CERN web servers back when the Internet was in its infancy.
1993
Jonathon Fletcher created JumpStation with its linear search showing information about a page title and header. It is also the first search engine to use a web crawler and indexer.
1994
Yahoo! Directory, created by David Filo and Jerry Yang, was launched and began as a collection of web pages with man-made descriptions in each URL. Informational sites can be added for free, while commercial ones can be added for $300 annually.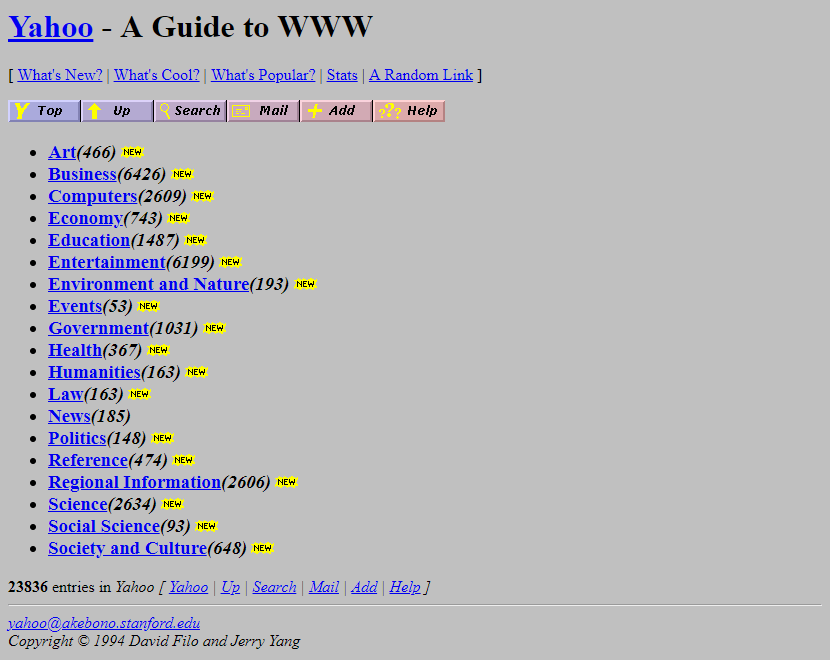 Lycos was also released during this time, with a catalogue of 54,000 document and later expanding to 394,000, and 1.5 million in 1995.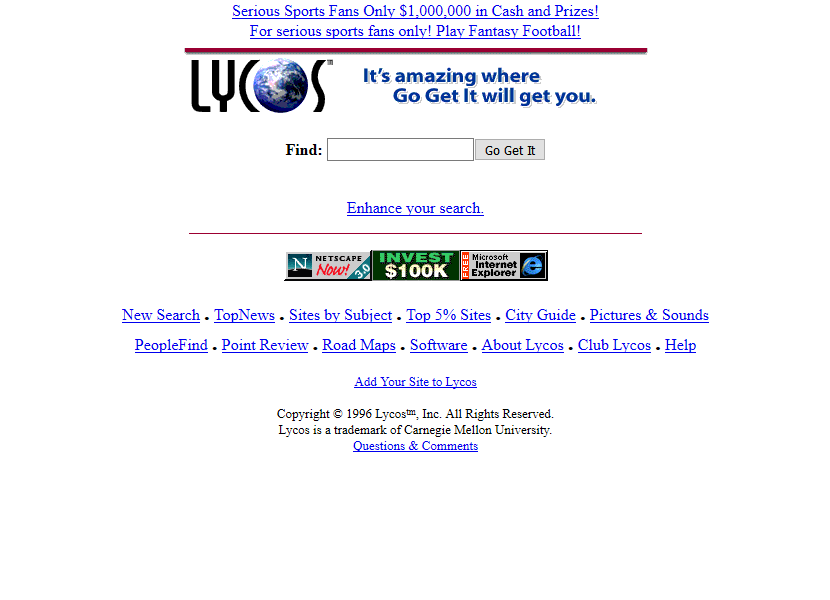 1995
AltaVista was released and pioneered a couple of features found on modern search engines: unlimited bandwidth, natural language search queries, search tips, and allows users to add or delete domains within 24 hours.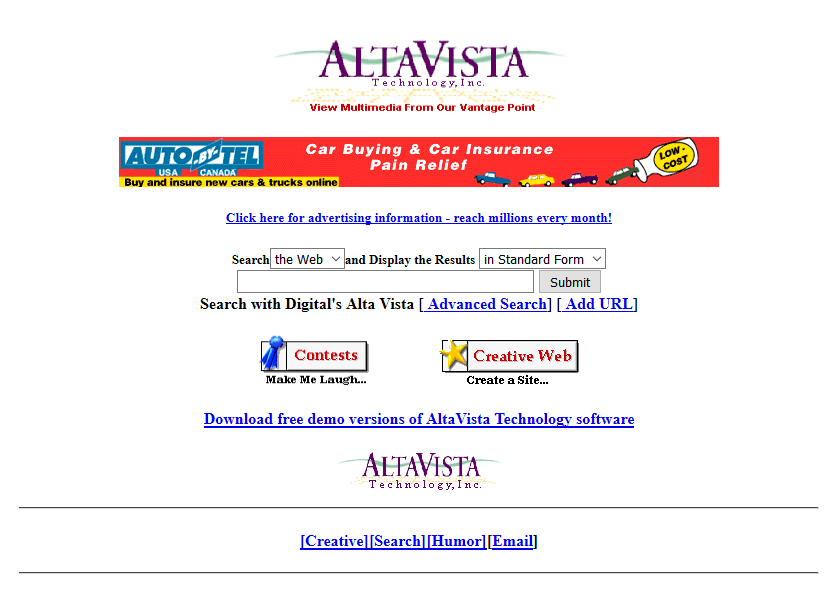 1996
Google founders Larry Page and Sergey Brin began working on BackRub, a search engine using backlinks for search.
1997
Ask Jeeves was released as a natural language search engine which ranked links according to popularity. It is now known as Ask.com
1998
MSN Search was launched by Microsoft, originally using search results from Inktomi and later on displayed listings blended with Looksmart. It would later rename to Bing in 2009.
Google was officially launched.
2002
Yahoo! acquires Inktomi and Overture Services to power Yahoo! Search.
2004
Microsoft launched an overhauled MSN search engine.
2005
The big three search engine providers (Yahoo!, Google, and Microsoft) started using the "nofollow" attribute to combat link spam.
2007
Google creates Universal Search, adding features for News, Video, Images, Local, etc.
2008
Google Suggest is launched, providing a dropdown of suggested topics related to user query.
2009
MSN Live Search becomes Bing, and was heavily promoted by Microsoft alongside the launch of Windows 7.
2010
Google Instant is launched, providing users with real-time search results as they type queries.
2011
Scheme.org, a joint initiative by Google, Yahoo!, and Microsoft, is launched.
Google Panda is released, affecting improving query results and reduces the effectiveness of content farms and scraper sites.
2012
Google launches the Penguin algorithm update which penalizes sites buying links or those obtained through link networks to boost search rankings.
Microsoft launched Sidebar which gives users results through social networks.
2014
Yahoo! becomes Mozilla Firefox's default search engine in the US.
Google launches HTTPS Everywhere campaign, prioritising website security as ranking factor in search queries.
2015
Google Mobilegeddon is launched which enabled websites to be more mobile-friendly in mobile search results. Microsoft later releases their own mobile-friendly update.