[WAMA] Jakub Linowski - CRO + UI Designer - Thursday 19th February 5pm EST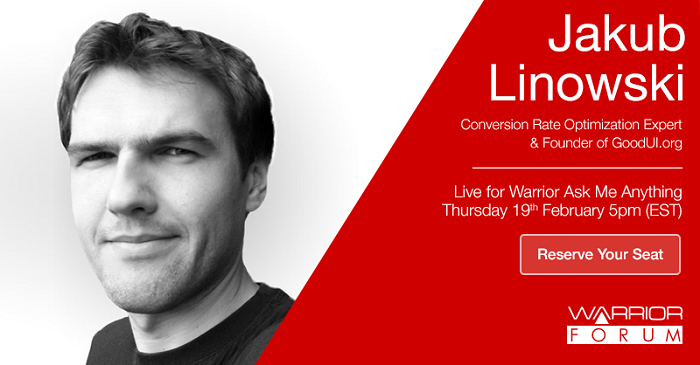 Hey Warrior Forum Members,
I'm Jakub Linowski, and I'll be doing a Warrior Ask Me Anything session in a few days.
So please send in your awesome questions below.
What I do have expertise in:
I'm a UI designer with a deep focus on data and conversion rate optimization. I've been running a consulting firm at
Linowski
where we perform various A/B tests for clients. We also share tons of UI advice for easier and higher converting pages over at
www.goodui.org
. We also share some of our testing advice over at:
www.goodui.org/betterdata
. I can advise on ways to optimize for more signups, more purchases, more leads, etc ...
What I know nothing about:
SEO, PPC, channelling traffic.
What can you ask? Here are a few sample ideas:
- How to run tests on low traffic sites?
- How to setup your first test?
- How to know that your results are real?
- What to measure?
- How many variations?
- How long to run the test for?
- Top conversion ideas?
- When to stop a test?
Essentially ask anything about a/b testing, testing strategies, UI design, and analysis.
See you soon,
Ask away,
Jakub Linowski