it's ALL About the power of video...
It's no secret that video has a magical effect on your viewers and customers
.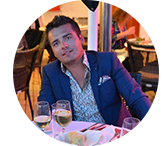 It's been proven time and time again that video converts up to 3x better in combination with a regular sales letter. The most successful products and services out there always have a video promoting them.
But before we go any further, you're probably wondering who I am and why I'm telling you something you may already know.
I'm Peter Roszak
I've been a long time marketer in all sorts of small niches
and honestly I struggled with video.
I was great with graphics and photography, but could never get the whole thing on Video and
I was just really bad at making them,
honestly my 6 years old cousin could make better videos then me.
Video is complex and it just isn't easy to produce...
I'm talking about a video that can actually guarantee you an INCREASE in SALES and get you FRESH leads.
Well you're probably thinking, why don't I just make a slideshow like those countless applications out there that do that...
YOU NEED TO STOP MAKING BORING SLIDESHOWS!
A BORING SLIDESHOW IS NOT A VIDEO ANYONE WANTS TO WATCH.
It's just a bunch of pictures presented with some text, spaced a few seconds part. I've never seen a video like that be effective at selling ANYTHING!
Your personal photos might look good in one, but for selling or promoting your products it's just no good...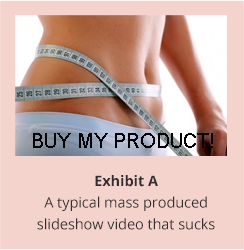 Viewers hate them, you probably couldn't sit through watching it and it's just itching to scream out SPAM or even SCAM!

Unfortunately the majority of the software for marketers out there just produces these boring and reputation damaging slide shows
.
There are some other solutions, but really they don't come cheap at all and nothing that isn't time consuming or extremely costly.
I don't know about you, but my time is best focused on growing my business, not training myself for weeks on the latest video editor and creation techniques.

BUT... What Are The Alternatives?
Unless your budget is very high, the costs of having a REAL video outsourced, animated and perfected are very high. It's a lengthy process and
it takes up a lot of your time
in the planning and production process.
Services start from at least the mid hundred dollar range
for a SINGLE video being just 1 or 2 minutes long! Imagine what you can do with that kind of money and time invested in growing your business or gaining new customers where it really matters!
THE DIY WAY or "Do It Yourself"...
Well it's a learning experience, I eventually figured it out...But it still requires skill, a lot of dedication, expensive software and
worst of all it just takes up too much your time.
Your time is best invested in growing your business and gaining more traffic and customers.
It's going to take you months to master a professional video editing program.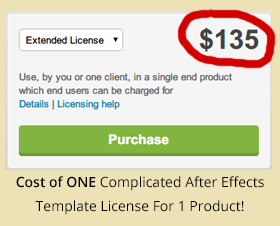 Video templates -
This is a growing business and there are actually are quite a few good ones out there, but have you seen the price of just one template that will allow you to sell it to other customers?
$135! The average price for a single after effects video template
that you can use for
just ONE Business or Product!
Are they nuts?!?!? I guess not because they are selling them like crazy even with a price like that.
I told myself, there had to be a better way...
Video is Where Your Customers Are Spending
Their Time & Money
Not a day goes by, not an hour goes by... When you probably watch or have the opportunity to watch a video on a page.
Videos can explain your message or product
in a short amount of time and have them
positioning you as the expert in no time.
By 2017, Its Estimated Video will be 90% of All Internet Traffic
. It's vital you have a video, your products and services have a video and that your clients have a video!
VIDEO CONVERTS A LOT MORE! - Plain and Simple
I Can Prove It For You!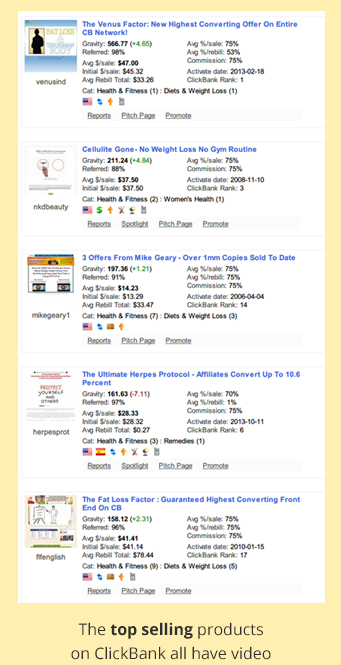 It's quite simple and evident all over the Internet!
These are the top 5 products on ClickBank right now sorted by Gravity.
All 5 these products use a sales VIDEO!
These products are truly killing it on ClickBank!
But not just ClickBank...
Think of all the "Gurus" and other successful products that use Video to sell their customers. I'm not a big fan of the so called "Gurus" but heck they know Video is powerful!
It fact promotions with just a single video alone have been known to produce MILLION dollar days for Marketers!
Truly this shows you the power of video!
But the secret is to have a compelling, professional and engaging video.
Not something your everyday software can do!
See any of these sites using some boring picture slideshows? No, I didn't think so.
You need a solution that can truly produce professional videos fast and easy... VideoMakerFX was designed for just that!

Hey, whats up guys...

I was just chatting with my business partner and co-developer of Video Marker FX
when he showed me this brand new landing page builder that he's using to
build video landing page converting anywhere from 60 - 70%

I almost didn't believe him until he showed me stats and right there,
I knew I had to get this out to you guys.

If you run Video Marker FX on your wordpress blog, no doubt you're generating
a lot of traffic and content on your sites now... though Video Essence comes
with inbuilt marketing modules which are pretty powerful but what this
video landing page does is 10x times more powerful - as hard as it may be for me
to say that openly, I have to admit the real truth on this one.

The video landing page builder is built to be a full marketing-conversion module
and it comes with thrice our own conversion/marketing features.

So, we figured out something...

Step 1 : Download Video Marker FX
Step 2: Create high converting video landing pages with it
Step 3: send traffic from your video essence sites to the landing pages you just created!

And BOOM... get 10% more ROI overnigHT


This is by far the most powerful "Profit-Pulling" page builder out there,
the features stacked in it beats Optimize Press, LeadPages and Profit Builder hands down.

Introducing Landing Page Monkey
Gorgeous Landing Pages Quick and Easy With Just a Click of Your Mouse
Creating landing pages is a huge hassle for most marketers. You have choice: do it yourself, or hire a designer.
A designer can create a beautiful page for you, but he'll also drain your budget. And every time you need a new page, you have to cough up more cash so your designer can afford his lattes.
The other option is to do it yourself. Problem is, it takes a lot of time to create these pages. You need some coding know-how to make them look good. And if you want to track your campaigns to see if your landing page is converting, then you need to get yourself a tracking tool or script.
It's no wonder so many marketers only have a couple landing pages, even if they are leaving money on the table by doing so. It's just too much work, too much time or too much money to put them together… at least if you're going to do them right.
Until now…
Introducing the Landing Page Monkey web app, which takes away all the work by quickly and easily creating stunning landing pages with just a couple clicks of your mouse.
You don't need to touch a single line of code. You don't need to hire a programmer or a web designer. You don't even need to download and install a script, since this is a web app.
All you have to do is log into your Landing Page Monkey dashboard, click your way through the user-friendly form, and in just five minutes you too can have a cutting-edge, high-converting and mobile-responsive landing page to build your mailing list or sell your products.
LandingPage Monkey
You can use these landing pages to get mailing list subscribers, webinar registrations, run contests and close more sales. If you need a polished sales page or a landing page with an opt-in form, Landing Page Monkey can create it lightning-fast.
Just look at this app's features:
• Delivers highly customizable pages. You can quickly fine-tune your landing page to get just the right look and feel to seamlessly integrate with your site. LPM lets you change layouts, font colors, font styles, background graphics and even background videos to give your landing page a cutting-edge, polished design that's sure to impress.
• Make changes on the fly. You can tweak your landing page without disrupting sales or sign ups, touching the code, or uploading anything. Just log into your dashboard, make your changes, and hit save to instantly update your pages.
• Works with all major email service providers, including Aweber, GetResponse and MailChimp and more.
• Works on your server or LPM will host your page for you. You can upload these pages to your own site, or save on bandwidth by letting LPM host the page for you at no extra charge. You don't even need your own website to start building a mailing list with Landing Page Monkey!
• Tracks your campaigns. Landing Page Monkey tracks your impressions and mailing list sign ups so you can optimize your campaigns for maximum profits!
• 100% responsive, 0% errors. You never have to worry about faulty code throwing errors when Landing Page Monkey creates your pages – and that means 99% of all your visitors will see your landing page. Your pages will show up on all smart phones, tablets, laptops and other devices. Plus they've been rigorously tested to work across platforms, including Chrome, Safari, Firefox, Internet Explorer and other major browsers.

• Saves you time and money. In just minutes you'll have a beautiful landing page that looks like it was created by a high-priced web designer. Plus LPM's clone feature lets you replicate your favorite landing pages instantly and get them online fast.
• Get rid of tech headaches. This is a web-based app, so there is nothing to download, nothing to install, no fiddling with customizing scripts. Just log in and you're ready to start creating pages instantly.
Listen, you won't find a better, faster or easier way to create and publish landing pages. If you can point and click a mouse, you can create a landing page like a pro with Landing Page Monkey.
So stop monkeying around with those clumsy other tools and see for yourself why Landing Page Monkey makes list building so easy. Click here to check it out right now: