Are You Looking for the Very BEST Infographics Templates, Tools and Tips?
Infographics are simply one of the most powerful tools for Internet marketing and give you some extreme opportunities.
A good targeted infographic is much more likely to be posted on an authority site than a "guest article". Getting your content posted on authority sites can give you both tons of high quality, targeted traffic as well as the highest quality links to increase your search engine traffic.
Plus, an infographic is much more likely to go viral across social media sites than plain and boring text articles.
It's the simple truth, infographics give you:
More traffic
More and better links
More social exposure
However, nothing is perfect. The two problems they have is that they can be expensive and hard to make. But these problems are solved below.
This is a two part special. First is a great collection of infographic templates and the second is my special Ultimate Infographic Report.
A great way to save money, and blood sweat and tears creating infographics is to use templates. And the following Infographic Template Collection package is a tremendous value.
First, let me say this isn't some "phony" review where I expect you to buy something I didn't buy myself. I bought this with my own money and here's my receipt: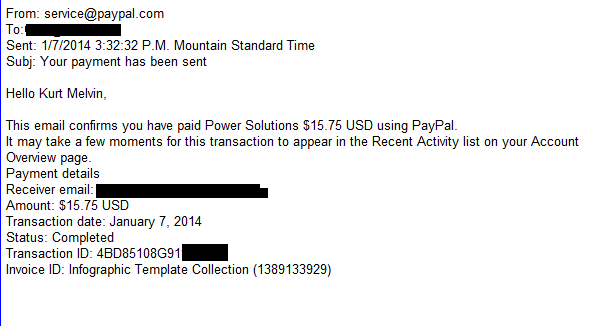 Normally, you'd expect to pay at least $100

and more for a decent infographic.
These templates allow you to easily create eye-catching infographics at a very small price.
To do it yourself, you will need a program to handle vector images like Adobe Illustrator (good but expensive), or you can use the great free vector image program Inkscape.
Tip: You can also give them to an outsourcer from sites like Fiverr and get great results for a fraction of the price you'd normally pay.
With these templates, you'll get 32 different styles with a choide of 3 different colors each, for a grand total of 96 different inforgraphics templates.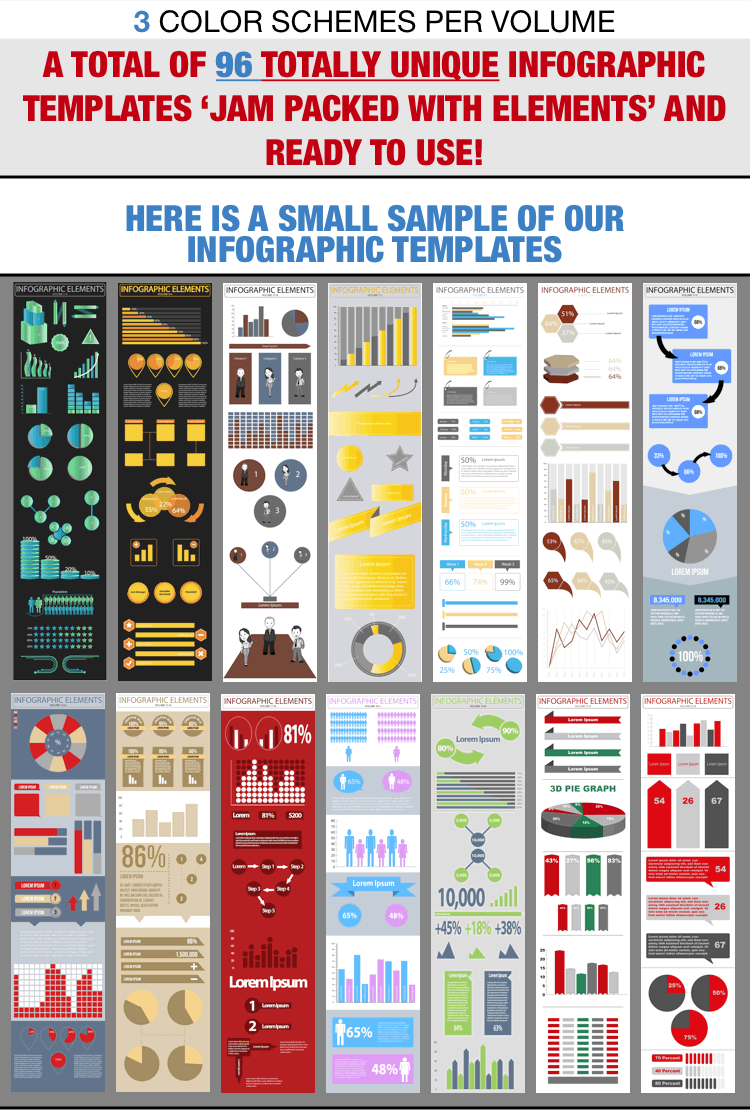 The second part of this special offer is my Ultimate Infographics Report, and is full of tips, tricks and tools.
FREE! Get your Ultimate Infographics Report Now
Infographics are hot and one of the most potent tools Internet marketers can use. Get your own copy of my Ultimate Infographics Report and discover:
Uncover expert infographic marketing tips to drive traffic in virtually any niche.
Learn how to build real authority links to greatly increase your site's rankings.
The best places to submit your infographics, including the single most powerful place to submit.
How to find the very best ideas for your infographics.
Why you shouldn't design infographics for your audience and who you should design for.
How to increase your chances of having your infographic published on real authority sites.
Where to find the best research resources for your infographics.
Save time and money with my vast collection of FREE infographic makers.
How to turn your infographics into a multi-media marketing machine to take advantage of a variety of powerful marketing opportunities from a single infographic.
Don't miss out on the most complete infographic resource on the planet!
Fair Warning: You snooze, you lose.
I reserve the right to end this free offer at any time, without notice.
-And-


Click here to get my Ultimate Infographic Report for FREE!