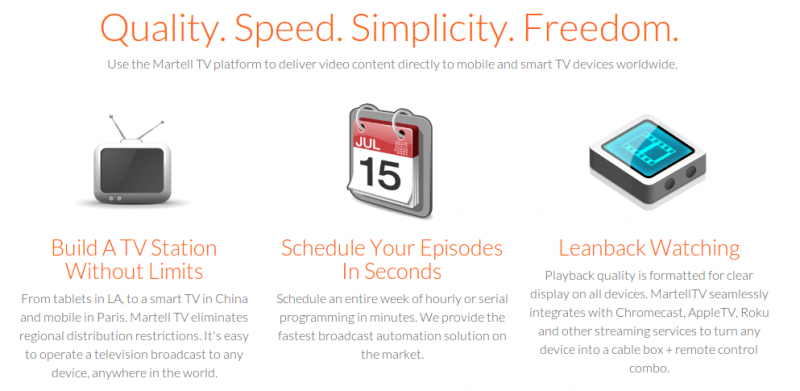 I want to let you know that you can get your own web TV station and the time to act is now. For only $100 to $200 you can get your hands on lifetime access, but only for a limited time through our Indiegogo campaign:
http://igg.me/at/youtube-network-app/x/215096
We've sold over $4,000 worth of Stations so far.
UPDATE: Get a custom website + a Premium Station for $300.
Details here.
Do you want your own YouTube Network but can't get approval from Google? Or do you wish that YouTube was more like TV?
We have a solution for you, and it can be 35,600% more profitable than YouTube's ad revenue system.
My name is Carey Martell and I am the CEO and founder of Martell Broadcasting Systems, Inc.
I launched my YouTube multichannel network, Power Up TV in March '14 and grew it to over 800 channels, 140 million views and 1,000,000 subscribers in four months, spending only $35 in marketing costs.
(
Proof
)
Today I'm an expert in the web TV space but I wasn't born with the know-how. I started out like most people do; running my own personal YouTube channel where I produced all the content myself. That's script-writing, editing, filming, even acting -- I did it all myself, spending at least 6 hours of time producing each episode of my show. And I learned something along the way; the business of web TV isn't the same as the business of professional broadcast television.
Using YouTube I can't even use *ANY* of the broadcast strategies I learned in film school
, like hammocking or counter-programming. And that's a major disadvantage for web TV creators; all of the multi-billion dollar TV stations use these strategies to increase viewership and guarantee high audience retention.
So I got to thinking; what if there was a way I could keep all my content on YouTube to take advantage of the free hosting but still organize my content the way the major networks do? And what if I could provide this service to other web series creators, so they could start their own TV stations, too?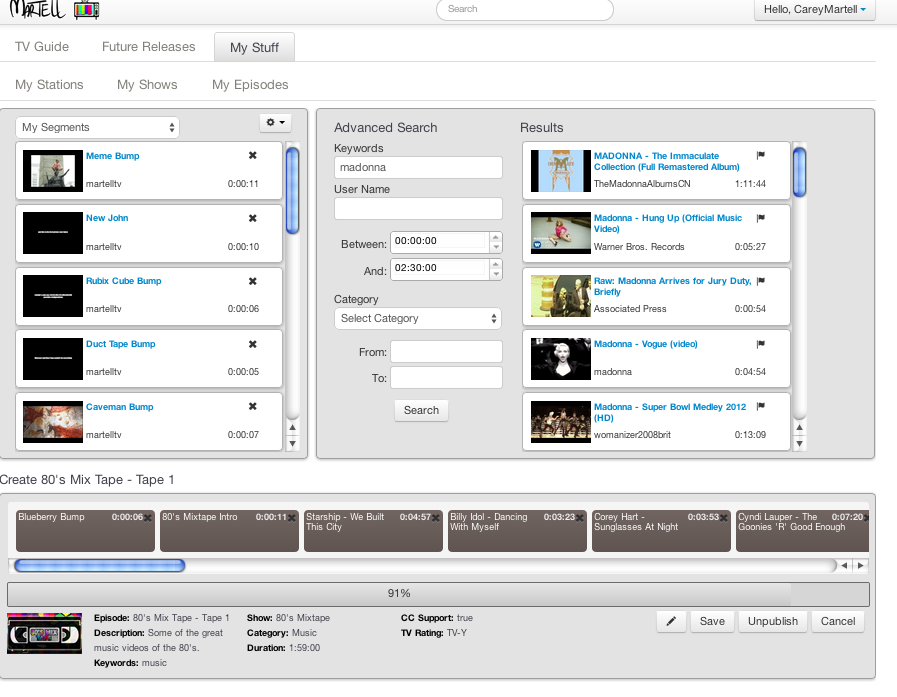 We've created automated TV scheduling software for the internet age! Build a 24/7 TV station lineup from ANY YouTube videos, even from other channels!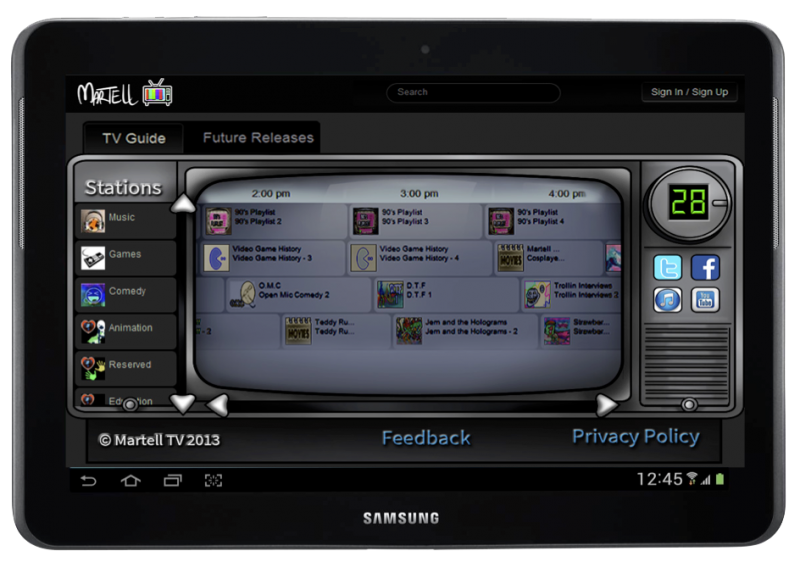 Concept for what the channel guide will look like on tablets
After investing my own time and money into designing a cloud-based system, my company built the prototype you see on Power Up TV. For the first time ever, YouTubers can transform their websites into a TV station with hourly programming so they can use all the same broadcast strategies the big boys do but without having to sacrifice all the great stuff about YouTube.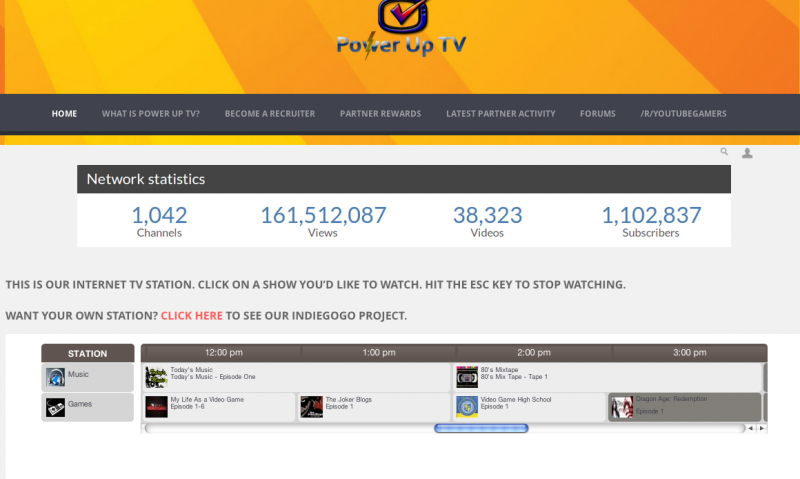 Web app allows you to embed the Station's hourly feed into your own website. The same feed from the mobile app will appear on your website.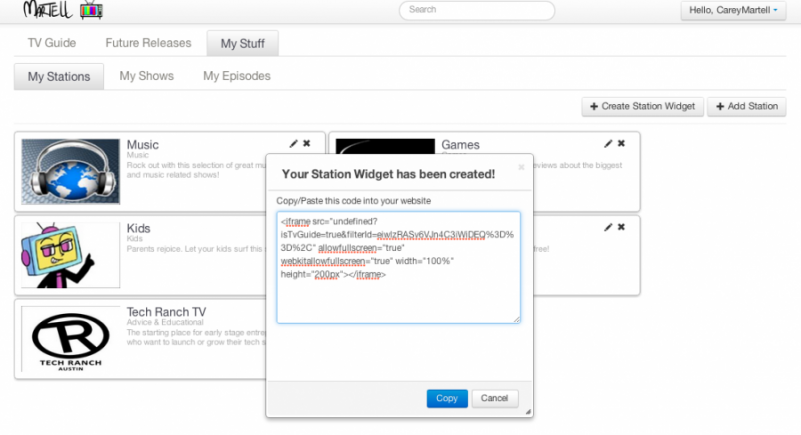 Embedding the web app into your websites is super easy! No special coding required; just copy and paste the iframe into any HTML page.
And this prototype system is just 20% of the full vision I have for Martell TV. I want to turn this website plugin into an entire platform -- a virtual cable-box of web stations -- that can allow any serious web creator the ability to run their own "YouTube network" without actually needing any special "CMS" account from YouTube.
Through this Indiegogo and
ONLY
through this Indiegogo, you can obtain your own web TV Station at a heavily discounted price that will never again be this low in the future. Through this Indiegogo you can buy a Basic Station for $100 and a Premium Station for $200; after this Indiegogo ends, you'd need to pay those prices every month to keep your service intact. Purchasing a Station today through this Indiegogo will save you thousands of dollars in the future and start you on the journey of becoming your own media mogul (if that's what you'd like to do).
tl:dr
We've made a cloud based cable TV system, but using Stations that play YouTube videos. Station owners can sell their own ads and set the price at the rate they want, rather than on YouTube where you have no control and are essentially gambling.
You can embed your Stations into your own websites, and focus on marketing your website rather than a YouTube channel where the viewer's attention is going to drift to to the Related Video feed -- and someone else's content.
But your Stations also appear in our mobile app, where users can search and subscribe to Stations, adding the ones they like to their personal channel guide. This allows for cross-programming strategies to be utilized, which cannot be done with dedicated brand video apps.
Martell TV not only helps creators make more money, it also helps users find higher quality shows and watch them regularly by filtering out a lot of the garbage (like re-uploaded videos). This is because users search only for Shows and Stations, not individual videos. This is the same way professional TV networks operate.
Again, this offer expires after the project ends.
In the future there will be a monthly fee for access, and the prices on Stations will go up.
Don't be left behind.
If you have any questions, feel free to ask.
Carey
PS: We'll provide consulting and training materials to Station owners to assist with running their Stations. For a sample of what this material will look like please
read my blog
.