Super High ROI Amazon Affiliate Website - Build for You + Coach You to Profit + 1 Year Money Back
Replicate what the vets do to grow super-high ROI Amazon affiliate websites.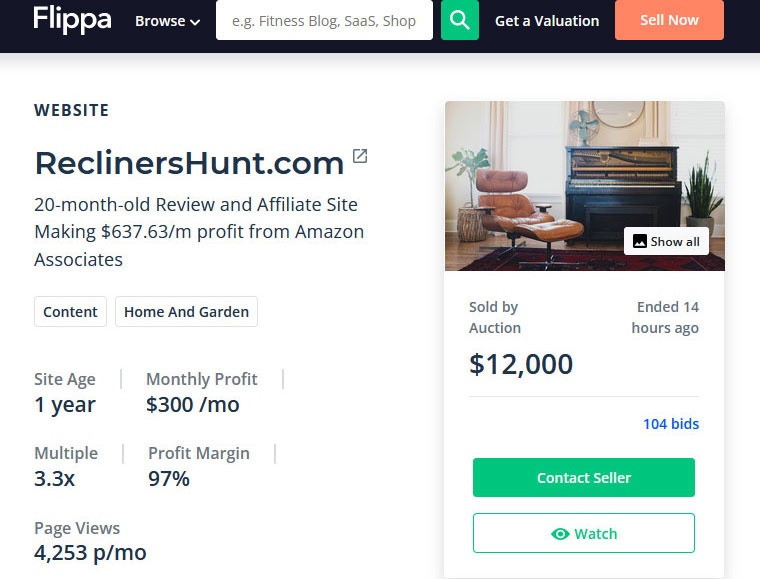 Still can't make money online? Maybe it's time to stop looking for the next shiny thing.
Learn how to grow an Amazon review site. It's the most reliable affiliate marketing model for 2023.
Other than being able to make monthly commission off Amazon, you get to ask for 40X monthly profits on Flippa to sell it off... just like the site above.
...
We'll build you a similar one + show you the process to replicate its success.
Hey, I am Verena.
We've built 1000s of affiliate sites since 2010 on the Warrior Forum.
Hundreds of happy warriors
have left testimonials on our Forum's thread.
If the 200+ overwhelmingly positive reviews from fellow warriors won't convince you, nothing will.
I know you have been pitched a million times; this is not one of those.
No fancy claims or overwrought promises.
My offer is straightforward: you want a system to make money on the Internet that actually works.
We'll show you a proven system that works + build you a site to achieve that.
Simply put, I know how to make you money with an Amazon review site. Order a site from us and we'll build it and coach you till you are successful.
...
My rate is simple
We'll build a complete Amazon product review site for $160
You'll get:
- A customized Amazon product review site (even better than the one I've shown you above)
- 2500-word reviews included + on site SEO optimization.
- Essential pages required by Google and FTC: disclosure, privacy, contact.
- Free domain name research service.
- Free niche research and recommendations.
- Free product research and recommendations.
- Free keyword research and recommendations.
- Free 12-months web hosting. Want to host it on your own server? That's fine too; just send us your server login details and we'll build the site there for you.
- Free training- I give you a detailed step-by-step, "do-this", "do-that" set of instructions in my private membership site. We and other veteran marketers use the same system to run our own sites. Replicate what the vets do to make your Amazon affiliate business fly.
- Free guide on flipping your site for 10X profits- Everyone goes to Flippa to queue their listing. Not smart. In case you want to flip your site for quick profit, I'll show you where to get your site sell in 48 hours without having to go through the steep learning curve to optimize Flippa's algorithm. This piece is golden.
- 12-months money back- Yes, that's 1 year. Try this for 365 days. If you do exactly what we teach you in our training and don't make back your investment, submit proof that you gave the training an honest effort and we'll refund your investment, simple as that.
This is a 100% newbie-friendly business model.
So, even if you are a tech-challenged, have-a-day-job, and doing-everything-all-by-yourself solopreneur this model will work for you.
...
How to pay
One website = $160.
Ready to get started?
You can Paypal me here
.
(Don't have a PayPal account? Ask me for a credit card payment link)
Need more than one site?
Contact me here
for bulk discount rates.
...
Ask for a sample site
If you want to take a look at a sample site before you order, write me below.
When you raise your hand, I'll send you a sample site + more detailed information on how I can help you to achieve your dream.
Go through them, and if you think this is a right fit for you, we can start.
By the way, if you have any questions in mind, feel free to drop me a pm. Or email me at
admin@conversionie.com
Cheers
Verena