Does Your Audience Shop Online?
Our product really sells itself because it's a "no brainer"
Who would not want to earn 2-15% cashback on things they are already buying?
Develop a recurring revenue stream that will last for years
through the best referral program in the industry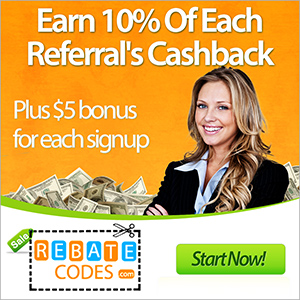 It's Simple. For each person you refer to RebateCodes.com, you will
receive a $5 sign-up bonus and 10% of the referee's cashback. For Life!
Imagine the revenue stream from 10%
of the cashback earnings of hundreds of people!
Let's work together and make some money.
Affiliate Commission: $5 Sign-up plus 10% of Cashback Earnings of Referee