Hello ..
We are small network in link builder services specialist with 4000++ sitelist in our database, you can check our official site
Link Building Service | SEOdigy.com
. With 3 years experience in link building service, we want to offering you partnership in link building industry, for today we focus in blogroll and blogpost service.
Here are details of our service :
1. Blogroll Service
We provide one way quality backlinks from our blog directory PR1 – PR5, which related to your website for one full year or permanent link. This is a great way to get better rank in search engines. We will find the best niche related website with high PR, and we will place your link in blogroll.
Our service features:

Different anchor text – Instead of submitting same anchor and description we are pleased with different anchors with different descriptions so that it looks very natural to Google and they will not appear like purchased links. (This condition applies only if you buy bulk text links).
We got high quality ranked text links and customers on the web. We don't do spamming and no hard searching. Our service provides permanent check control of the text links through various check tools.
Links will be placed on pages having Google Cache and it will be well Indexed in Google.
After completion of job I will provide a Comprehensive link report showing the location of all placed links.
Price for blogroll :

2. Blogpost Service

With the low price, you will get:
permanent one-way quality backlinks
highly relevant links
targetted traffic coming to your site
better Search Engine Result Page (SERP)
Price for permanent blogpost :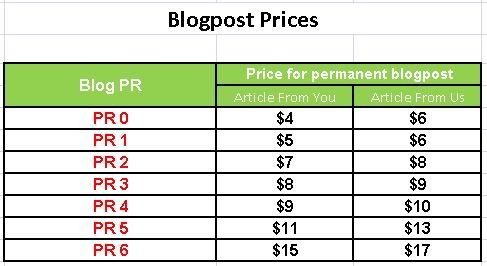 article provide by our team, (min) 200 words based.
Blog posts Packages :

Bronze Packages : 10x PR2 + 10x PR3 + 5x PR4 = $199
Silver Package : 15x PR2 + 15x PR3 + 10x PR4 = $299
Gold Package : 20x PR3 + 20x PR4 + 10x PR5 = $499

We will give you :
Articles authenticity guaranteed passed Copyscape
Each article is made of at least 200 words
Every article has a maximum of 3 links to your blog
Each article will be placed on a related category
Each article will be published on a different blog IP
For further information, please PM me or you can contact me directly via :
Best Regards,