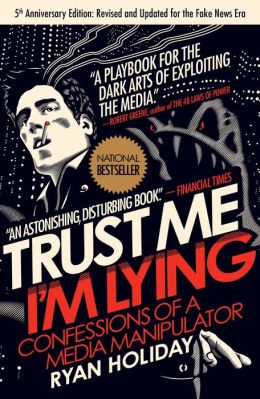 IF YOU WERE BEING KIND, YOU WOULD SAY MY JOB IS IN marketing and public relations, or online strategy and advertising. But that's a polite veneer to hide the harsh truth. I am, to put it bluntly, a media manipulator--I'm paid to deceive. My job is to lie to the media so they can lie to you. I cheat, bribe, and connive for bestselling authors and billion-dollar brands and abuse my understanding of the Internet to doit.
I have funneled millions of dollars to blogs through advertising. I've given breaking news to blogs instead of Good Morning America and, when that didn't work, hired their family members. I have flown bloggers across the country, boosted their revenue by buying traffic, written their stories for them, fabricated elaborate ruses to capture their attention, and courted them with expensive meals and scoops. I've probably sent enough gift cards and T-shirts to fashion bloggers
to clothe a small country. Why did I do all this? Because it was the only way. I did it to build them up as sources, sources that I could influence and direct for my clients. I used blogs to control the news.
It's why I found myself at 2:00 A.M. one morning, at a deserted intersection in Los Angeles, dressed in all black. In my hand I had tape and some obscene stickers made at Kinko's earlier in the afternoon. What was I doing here? I was there to deface billboards, specifically billboards I had designed and paid for. Not that I'd expected to do anything like this, but there I was, doing it. My girlfriend, coaxed into being my accomplice, was behind the wheel of the getaway car.
After I finished, we circled the block and I took photos of my work from the passenger window as if I had spotted it from the road. Across the billboards was now a two-foot-long sticker that implied that the movie's creator--my friend, Tucker Max--deserved to have his dick caught in a trap with sharp metal hooks. Or something like that.
As soon as I got home I dashed off two e-mails to two major blogs. Under the fake name Evan Meyer I
wrote, "I saw these on my way home last night. It was on 3rd and Crescent Heights, I think. Good to know Los Angeles hates Tucker Max too," and attached the photos.
One blog wrote back: You're not messing with me, are you?
No, I said. Trust me, I'm not lying.
The vandalized billboards and the coverage that my photos received were just a small part of the deliberately provocative campaign I did for the movie I Hope They Serve Beer in Hell. My friend Tucker had asked me to create some controversy around the movie, which was based on his bestselling book, and I did--somewhat effortlessly, it turns out. It is one of many campaigns I have done in my career, and by no means an unusual one. But it illustrates a part of the media system that is hidden from your view: how the news is created and driven by marketers, and that no one does anything to stop it.
In under two weeks, and with no budget, thousands of college students protested the movie on their campuses nationwide, angry citizens vandalized our
billboards in multiple neighborhoods,FoxNews.com ran a front-page story about the backlash, Page Six of the New York Post made their first of many mentions of Tucker, and the Chicago Transit Authority banned and stripped the movie's advertisements from their buses. To cap it all off, two different editorials railing against the film ran in the Washington Post and Chicago Tribune the week it was released. The outrage about Tucker was great enough that a few years later, it was written into the popular television show Portlandia on IFC.
Excerpt from "Trust me, I'm Lying. Confessions of a media manipulator". Want a F.R.E.E. copy? Leave a comment and I'll point you to it. Trust me, it's fascinating.