How To Find Millions Of Niches (Picture Guide)
I thought I would give back to this place since it has helped me immensely... I have been seeing a lot of posts recently on how to find a niche etc... I thought I would show how simple it actually is to find a niche where money is being spent.
I understand that it is very annoying when it comes to finding a niche, people just tell you to go outside your house with a notepad and write down notes or go over to amazon to find a market. While each of these is a more than acceptable method, I have found that it isn't the best method. eBay in my opinion is a lot better because they give you every piece of information you need to know if a niche market is successful or not.
For this to work you will need to open up a word document and just write down some of the niches that you find along the way. Follow this guide and you will see how easy it is to uncover niches where people are actually buying!
Ok here we go… Head over to eBay | eBay
Once you are on the home page I want you to scroll down to the bottom of the page and click on the link called "site map".
Edit: Due to recent eBay changes, you will need to click this link
http://pages.ebay.com/sitemap.html
There is a section under the categories tab called "All Categories" Click the link.
For this bit you do not have to click on the crafts section but for this example I went into crafts. There are lots of other categories on the page, which you could easily click on. The important thing is that you click on the "See all" section at the bottom of the category.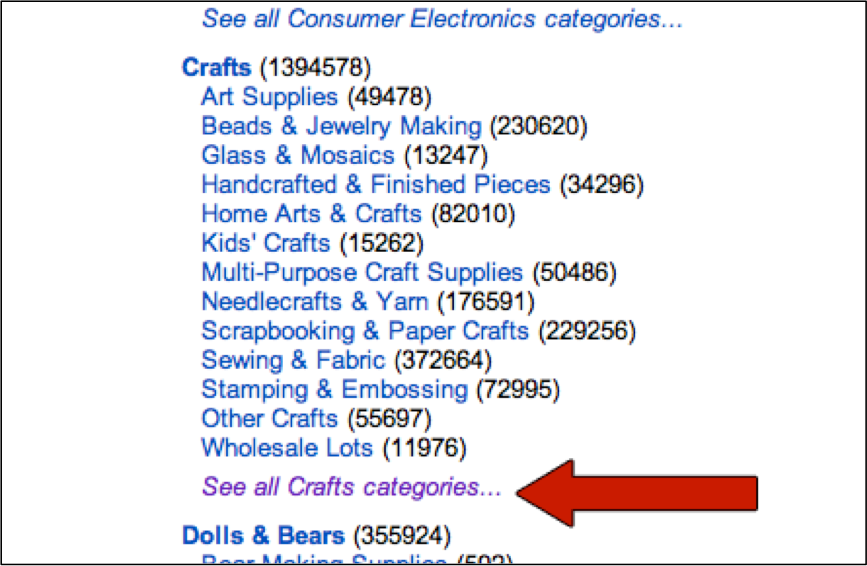 Once you have clicked on the "see all" I want you to play a close look at the amount of products being sold in this broad category. In the picture above there are over 4,000,000 products being sold on ebay right now. This shows that it is a busy market but we would expect this to be popular. All we are looking for here is ideas to find a market. Scan through the page and see if there are any ideas there which you may be interested in pursuing. (Remember these are broad markets and will be narrowed down in a minuet)
Once you find one which you want to pursue, click on the blue text and it will take you to a list of all eBay auctions for that niche. Once on the eBay auction page, down the left hand side you will see a format section, click on the auction button, this is important, we are not interested in buy it now.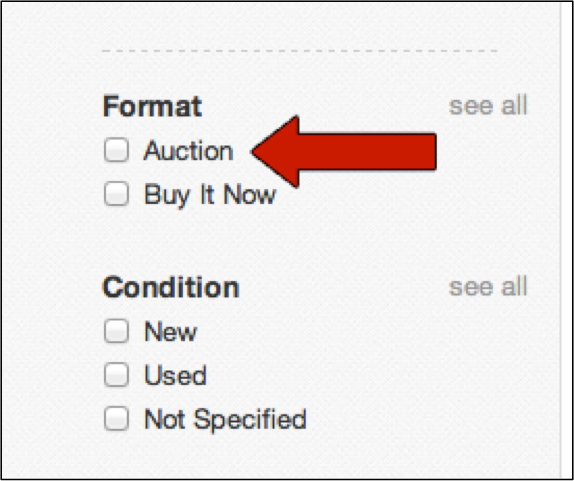 Here comes the very important bit, we are now going to turn your niche market into a list of products (and possible niche websites to create). There is a "Sort" section at the top of the page, you need to change this to show "Number of bids: Most first", this will return you back a page with all the current auctions going on where bids have been placed.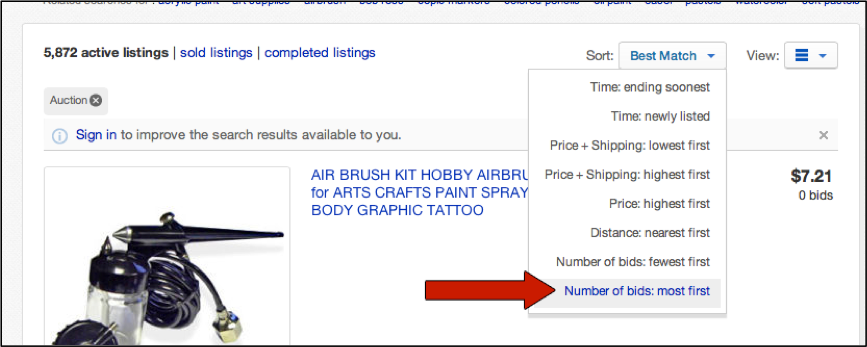 Look at this, we have 43 bids on some copic sketch pens, 40 bids on a vintage wooden grumbacher, 38 bids on canva's of modern art, another set of paintings, more copic sketch markers and the bid is at $280!! (Must be some good pens
).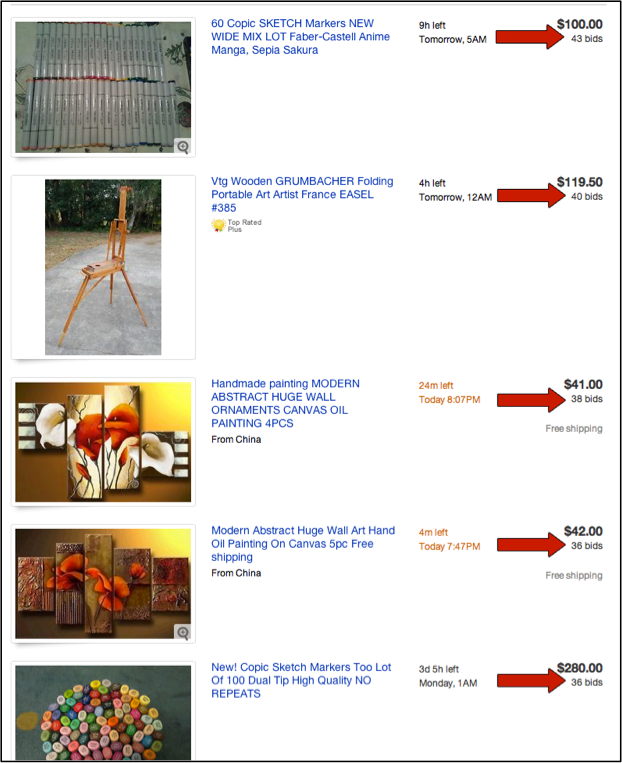 Here is the important bit of all of this, these bids show you that there is money to be made in that market! I never knew that people were willing to pay almost $300 for 200 pens. Not only does it show you that there is money to be made in this market, it also shows you EXACTLY what is selling. To top it off, it gives you keyword idea that we can base our keyword research on later eg… (Copic Sketch Markers). Now I am not saying the idea above is a home run and we have the perfect market, no, this is just an idea you could use later on in your keyword research.
I hope this helped some people who were struggling to find a niche, there are so many markets online it is unreal. There are plenty of markets out there which are relatively untouched, go find them!
Any other techniques for finding niches, add below!!