How to rank on Google Page #1 without a single Backlink
It's VERY possible to be on Google page #1 and position #1 for a pretty nice keyword without any backlinks pointing to your page.
If you are a blogger, this is going to work for you pretty well and you can remarkably increase your income.
Note that this method will push you to position #1 so quickly but with time, you are going to have to work hard to maintain that prestigious spot.
First, Be the first to write about it
When a new product is published, be the first to write about it. Generally, any keyword (product related) you optimize your content for will rank well. The simple reason is that competition is almost dead.
How to be the first to know a new product is released is a different ball game. But if you have an alert system to keep you informed of new products in your niche, you are good to go.
I was sitting on Google page #1 and position #1 for the keyword
warrior forum vault review
for a couple of weeks.
I was one of the first to publish on my blog for that keyword and I quickly grabbed that first sport with ZERO backlink.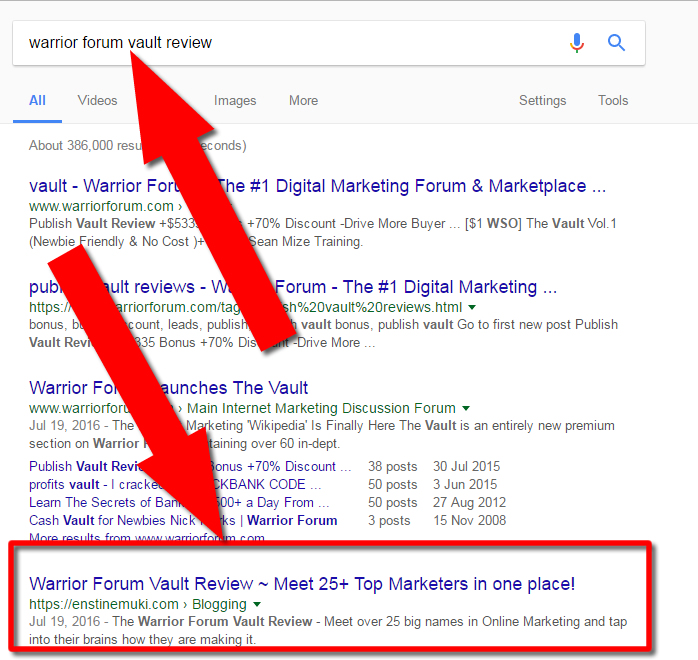 The traffic was getting good by the day and of course affiliate commissions jumped in.
NB:
You must be able to do proper OnPage SEO. A lot is online on this topic for free so Google it out.
Second, Submit to GSC Instantly
Once you hit the publish button, head over to Google Search Console (GSC) and submit the article URL. For the most part, your article will be indexed and ranked almost instantly.
If you follow this, you will almost be on Google page #1 and a good ranking position for most of your target keywords.
Always go in for longtail keywords and avoid competing with the big guns.
Let me hear what you think