LOCAL SEO Playbook: My Guides, Tips and Strategies.
There aren't a whole lot of threads in the SEO subforum about local SEO, so I thought I'd outline some of my key points when it comes to these niches, seeing as how I've done pretty well.



WHY LOCAL?

First, let's start off with some statistics.
There are 26 billion local searches every month,
46% of local businesses have no website,
83% of people search online before trying a product/service,
31% of online searches is for a local business,
64% of USA GDP is thanks to local business

All of the above is centered around the US, based on data from census.gov in 2008 and 2010.
Local businesses are coming to realize that they're not getting very many conversions from traditional print media, i.e.- yellow pages or newspaper classifieds.
Their business is on a decline and you are there godsend.
See the statistics I posted earlier.
There's a lot of money to be made and it's really fulfilling work, you're helping your local area and you'll find that a lot of gratitude is generally expressed.
Important Warning

But
watch out
! A lot of people have been screwed over by SEO agencies that didn't know what they were doing.
Some will be naturally distrusting of you for the first little while. I don't often have this issue, but I believe I have a personal charm which makes me come off as clever, nerdy and genuinely helpful.
This is why it's important to create an online footprint. Find a unique identifier (like your full name) and publish an article or an ebook. Perhaps start a blog instead or just have your clients write you reviews and testimonials (maybe somewhere like LinkedIn).
Whatever you select, you want an online footprint that substantiates your credibility.
CLIENT CATEGORIZATION

You're going to want to select clients who can justify paying a thousand dollars a month. A lot of businesses are already spending that amount on the Yellow Pages, so it isn't too hard to win that money over once you prove that you're not just some a-hole that showed up at their door to take their money.

Split clients into four categories
,
based on
yield
(amount of money
each
customer is likely to spend in the target business)
and
volume
(amount of customers the business gets).
1) Low yield, low volume.
example: hairdressers, convenience stores
2) Low yield, high volume.
example: restaurants, nightclubs

3) High yield low volume
.
AKA "Centres of Influence"
example: accountants, lawyers, real estate agents, interior designers, niche schools, etc

4) High yield, high volume
.
examples: household (electrician, roofer, plumber), medical (dentist, optometrist, chiropractor)
You need categories 3/4.
4's tend to be the best for quick work, but 3's have a lot of influence.
They tend to refer you to many people when you do an awesome job.
Develop a personal relationship with 3's that you get along with and reward will surely follow.
2's aren't bad in some cases either, but I am typically EXTREMELY selective when it comes to this category.
Well, actually, these days I'm really selective with everyone, lol: I only work with clients who REALLY interest me (i.e.- talented companies that do amazing and unique work), but you probably won't start off like that- I certainly didn't- I took whatever work I could get (and I undercharged at first too).
Now let's look at the logic behind our client classification system:
Business owners want a good ROI when paying you that 1000+ dollars. It's hard to justify giving someone hundreds of dollars
up-front
when you're a hairdresser. You have to cut a lot of hair to make that money back.
For a plumber on the other hand, that's only a handful of clients. It isn't hard to convince him that he needs to expand to the Internet and get onto a playing field where he can really get some business.
note that retail locations could fall in any category- be selective.



SELLING TO CLIENTS AND MANAGING THEM

If you have decent command over your language and seem like a well-put together person, this shouldn't be awfully difficult.
Business owners today are desperate. They know they could be making more money and they know that the web is where the intelligent consumers are. Just throw some statistics their way. Show them how many people are searching for each (local) keyword in their industry.
Explain that if you got them to #1 over 50% of those numbers will be to their site.
You're probably going to ask for a 50% down payment. You're going to write out a nice contract. I
GUARANTEE
page one results (generally within a month for regional keywords). The only exemption from this in my contract is Force Majeure: i.e.- I get hit with a flood or my right kidney fails or something.
I maintain communication ALL THE TIME.
Right after you take their money CALL THEM THE NEXT DAY.
No.
Not the day after.
Not sometime that week.
THE
NEXT
DAY- maybe even THAT day.
Call them every few days and explain what's going on. Build trust.
I know this can get annoying if you find yourself a chatterbox client who can't help but talk extensively all the time. Don't be afraid to let these people know that you were just checking in and
need to get back to work.
I like to use the line:
"Alright, well I'm going to go ensure that your investment in me is getting put to good use" or something synonymous.
A month goes by.
You come see them, you have a pretty report. You show them that you ranked them #1 for the keyword (in some cases, keywords!).
They've probably already noticed the traffic from this. They are thrilled. They love you. Sign them up for another 2-6 months. Explain that you're going to keep building links and make sure no one surpasses them for a while. Rank them for some new keywords.
At this point, if they're willing to pay me handsomely, I generally make them a blog and cross-link some content on and off-site.
If you're having trouble convincing a client to keep you despite awesome rankings, come visit them with the following information:
1) A report with how much all the traffic would cost with paid search (make a generous estimate, like the quantity they would spend if they tried to manage their adwords campaign themselves)
2) Explain that others will outrank them if you do not solidify their position, and by then you may have moved on to other clients.



QUOTING YOUR CLIENTS
note: keep in mind that pricing varies based on geography, I'm based in Canada, where per capita income is relatively high.

This is something that was very hard for me to do. I'm a generous person and I undercharged pretty severely when I started.
I worked for clients for as low as $200 per month. I wasn't that good at SEO at the time (I relied on blog and forum posts, lol)- confidence in your ability is a big player.
A more reasonable price range is $600-2000/mo.
But you have factors to consider!
1) How many keywords you're going to rank them for

2) Industry competition.
I've had a few realtors that took longer (an extra month) to rank than expected because there was massive competition in the local industry.

3) Are all keywords regional?
I've had clients who just so happened to sell their goods online as well as from their store. This resulted in some targeting of global keywords.


PERCENTAGE
BASED payment is not out of the question. I only do this for business that I really like. I don't offer it right away. I've got to BELIEVE in the product/service that my client is selling.
I rarely offer a %age cut (≈10% profit from every client, although this number varies GREATLY depending on the business), but when I do, I ensure that I LOVE the business I'm working for.



RANKING THEIR PAGES

Local SEO is easy SEO.
You're targeting regional keywords = "keyword" + "geographic determiner" (or in reverse order).
Where the geographic determiner could be a city, state, county, province, town, municipal abbreviation, zip/postal code (popular in the US), etc.
These are longtails and you should not have a problem ranking.
I assume that since you're here, you already have a fairly successful SEO strategy.
Obviously I needn't tell you to conduct effective keyword research and analysis of competition.

I'm skipping the keyword research and on-page SEO rundown here, because if you're reading this thread, you really should grasp that already.
Local SEO is one of the fields that Spamming blogs and forums actually works for. This is tedious work and I'd advise against it. Focus on authority links and you'll outrank the competition in no time.
If you really want to waste your time with spam links, go ahead and perform your SENUKE XRUMER bullsh!t, just know that I could outrank you in a few days (and so can others like me).
A. You're going to want to submit press releases.
B. You're going to want to submit to local directories.
C. A little article cross linking doesn't hurt.
D. Analyze the competition's backlinks and check which directories they're using!

I personally use a different strategy which I won't reveal here (maybe someday I'll put some WSO's up, as some of my techniques are pretty unique. Some revolve around coding though), but the aforementioned will work great.
Get started the very next day after the contract is signed.
NO EXCUSES. THE NEXT DAY.
Rank them earlier = better (ostensibly).



BLENDED SEARCH AND GOOGLE PLACES

If you've done a search with a city in the keyword in the 8 months, you'll notice that Google places has been blended into Google search.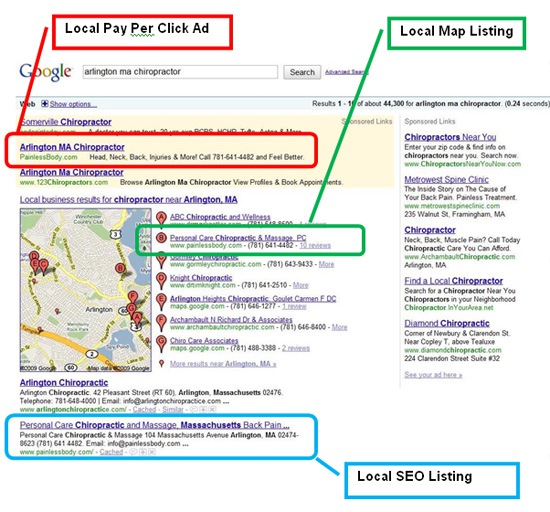 Well, this is a category I'm still developing strategies for.
Yes. I do add fake reviews.
Yes. I do add fake ratings.
5 ratings or more get pretty little stars on your clients' places result page.
The only issue with this is that Google probably detects repeated ratings from only the same accounts on the same businesses.
You might want to consider looking in to some Fivver gigs to avert penalty.
Honestly, I'm not sure if a penalty exists yet, but, as a programmer I know that it
wouldn't
be difficult for Google to put one in effect.
I'm running a few case studies right now that should give me a better understanding of Places SEO, but in the meantime the fake reviews and lots of inbound links to the main site have helped.
Another important factor is a thorough and complete places page. Verify your client by phone and set up their page. Includes photos, all sorts of information and A VIDEO. I find that using a video REALLY HELPS. Just have the business owner in front of a camera talking about something for 30 seconds.
Like in any other search, the backlinks to the site play a role, so your link building will still contribute its' value here.
MULTIPLE LOCATIONS are a good idea. If there's any conceivable way that your client can put up multiple business locations, execute it.
Most people using Google have either a Gmail account or web history enabled. This information is stored in the Google UID browser cookie and will try to find NEARBY places, depending on the individual doing the local search. For this reason, more places is an asset (although not always possible).

WEBSITES

People click on nice websites. Well designed websites convert.
Unfortunately, many of your local clients will have outdated sites that look like a regurgitated pile of images, solid colours and tables.
If
you have
taste in design
and a very rudimentary
understanding of internet technologies
(enough to set up and manage Wordpress), go ahead and buy a subscription to elegant themes for $40.
http://www.elegantthemes.com/
You get access to 60+ themes (a number which is constantly growing), many of which are business oriented and feature multiple colour layouts. These are probably the best designed themes I've ever come across on the web.
Their use of Javascript libraries and CSS sprites for aesthetic effects is simply spectacular.
Best of all, you'll be able to turn around high quality websites for your clients within a couple of days! Because you'll be providing them with a Wordpress CMS, this is something they might expect to pay ≈ $800-3000 for in other arrangements.
If this is typically to hard for you and or you have poor taste in design, GET SOMEONE ELSE TO DO IT. Nobody wants to see a website that looks like it was designed by someone who suffers from daltonism.
* * *
That's all guys. I created this thread because I KNOW that there aren't a lot of resources for this stuff. I hope you liked it and I know it'll come in handy.