How To Build A Local SEO Empire
I see so many people starting up in the business, and I want to give you a hand so that you can build this business up for the long-term. I don't really believe in the whole WSO thing, so much BS there, and natural skepticism. I make a good deal of money off of my offline business so it's not really necessary.
What I'm not going to discuss is "How to get clients". I'll leave that to others out there. This is about what to do once you have some clients, how to take the few clients you get and translate that into building an SEO empire.
What do I mean by Empire? Well, I was first introduced to the concept over at
ø Blue Hat SEO-Advanced SEO Tactics ø
, and this post in particular.
Blue Hat SEO-Advanced SEO Tactics » SEO Empire - Part 1
You want to think long-term with every client you take. "How can I take this client, provide great value, and keep them long-term as well as making it easier to get, retain and provide service for my next client? " I want to build an empire so that my work becomes easier not harder.
See, this is what most people do, they get a client, and they think "What's the easiest way I can provide value to my clients?" So, I'll SEO them and they'll love me and they'll want to pay me forever. And they may, they just may. But what if you could be SURE, like REALLY SURE?
So what I find most smaller SEO companies and even the large ones do almost exclusively like above. They get a client, let's say a plumber and then they build a lot of links coming in like "tacoma plumber". And while that's effective, what happens when you get your next client, and they are a plumber in seattle, don't you have to start from scratch again? Or even an electrician in tacoma? What if there were a way to make all of this faster, better, and longer lasting? Although let me be honest, it's a lot more work at the beginning so if you're scared of work, please stop reading now.
We're talking about building a pyramid type structure for longer lasting results.
So, let's take a hypothetical client. Let's say our client is a plumber in Tacoma, WA. What I want to do is build a base of sites that I own and control that link to my client. I'm kind of a control freak. I like to have control. So my client's site might be
bobsplumbing.com
. So, I want to take some of the fees I'm getting from him, and build up around 25 sites that I own and control. 25 sites at $16 a piece for 2 years registration is $400. So, I better be getting at least $400/month from my client. So my setup will look like this now.
Now, there are pluses and minuses to this setup. Here are some of the perks:
• I control the anchor text, I can make deep links, I can alter them as I see fit and as needed.
• If the client decides she no longer wants to honor their contract I am welcome to remove the links.
• I can play a little more loosy goosy with automated/borderline techniques with these sites without risking my clients "money" site.
• It's a lot harder for my competition to figure out what I'm doing because I'm "masking" a lot of my work by never directly linking to the "money" site except by properties I own and control. It's fun to get emails and phone calls from competing SEO companies trying to knock off my client by getting a link from Marcos' bad ass plumbing expo site. Ain't happening my friend.
• The real point of this is for future clients, we'll get into how that works later.
Here are some of the problems:
• It's a lot harder to rank the original site. Let's say I can rank Bob's site with 100 good incoming links, I might need 400-1,000 sites to my 25 sites that then point to Bob's site to get the same results.
• It's expensive. You have to buy, build and maintain 25 sites.
• It's time consuming, you have to actually look ahead.
What we're doing is building internet real estate on our clients dime. I might get a client who is willing to pay me $1,000 a month to do SEO for his real estate company. I only need about $50 a month to outsource enough work to get it done. However, what if I spent $500 of that to build up my empire what could I really get done?
So, you're probably asking, what type of sites am I building and what are they like? So, let's keep working on the premise of Bob's site. Let's brainstorm, what types of sites we can build to help Bob. Here are some ideas, I'm not sure if any of these sites are available just throwing ideas out there.
• Tacomacontractors.com- How about a site that profiles contractors. I could pick three at random with no outgoing links on them, and then a rich profile for Bob on the site.
• BestPlumbersTacoma.com- Same as above.
• HowToFixThingsInTacoma.com- What about a site that I pull a few articles from Ezine articles on fixing things around the house. Meanwhile I have a blogroll link to Bob's site on every page.
• CoolThingsToDoInTacoma.com- Grab a few of the most popular things going on in Tacoma post them as blog posts, Bob's link is in blogroll or on footer.
• TacomasPrivateSchools.com- Just a short list of the private schools in Tacoma.
• WashingtonStatePlumbers.com- A directory of plumbers in Washington, footer link to Bob.
• GreenPlumbers.com- A listing of plumbers that specialize in green techniques. Profile page of bob.
• DoItYourselfPlumbingtips.com- A list of plumbing tips from eHow. Footer,side link to Bob.
See what you have to realize is that the sites don't have to be exactly related to Bob or what Bob does, they can be "close enough". So a site about anything to do with Tacoma that mentions Bob helps out with the relevancy to Tacoma of Bob's Tacoma plumbing service. As well a Plumbing site is "in the neighborhood" as well. You're keeping stuff relevant and close to who Bob is, what he does, and where he is. And there's no reason why can't build a page that is VERY relevant to Bob's business .
I'll use a mixture of different linking types on the sites I own. Some of them he will be in the blogroll, others we'll have a blog post/page that describes Bob's service, others he will be in a footer or sidebar link. Some we may have all three.
Now that we have our sites setup, they probably aren't doing that much help with Bob's site yet. So we have to build links to our base sites. This is what it will look like.
You can use about anything to get links to your base sites. That's your three level pyramid. You might use any or all of the following:
• Directory Listings
• Blog Comments
• Guest Blog Posts
• Article Distribution
• Forum Links
• Forum Profiles
• RSS Feeds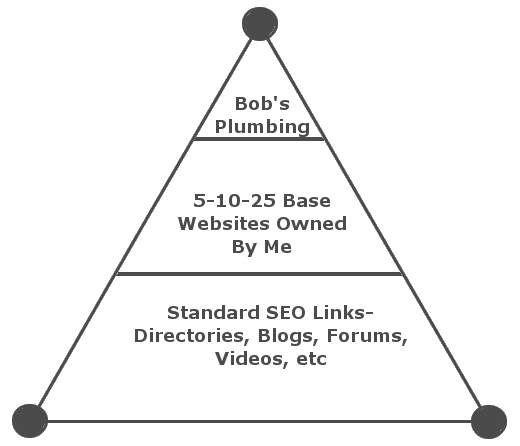 For those of you even more adventurous, you can also add a 4th layer, actually another layer below the 2nd layer of your 25 base sites. I usually buy another 50-100 .info domains and go a little crazy with those. Auto blogs, spun sites, whatever. Then I'll do xrumer blasts and other black hat things to get those sites ranking, and I'll link those sites mainly to my base sites so that they can't possibly have any negative effects on my money sites.
Now, I know it will take quite a bit of money and time to properly SEO the 25 base sites. But it's really not that bad. Trying to find a PR5 or above site that will directly link to Bob's plumbing and is RELATED to either Tacoma or Plumbing is very, very difficult. But getting a PR5 site to link to CoolThingsToDoTacoma.com article about a big marathon isn't nearly as hard.
And this is the really cool thing about it, because you own the property you can do really cool things like build link bait for something completely unrelated to a plumber in Tacoma, and then mold the PR of the site to flow to the page that DOES relate to both plumbing and Tacoma with a link to Bob's site. Cool, huh? You mold PR flow from pages by using things like javascript links and the like. It's complicated stuff, but you're going to want to figure out eventually. Ignore the Matt Cutts doom and gloom about how Page Rank Sculpting doesn't work anymore. It still does, and should continue to do so.
Ok, so hopefully we're all caught up. We have a clients site, 5-25 base sites built, and 1,000's of links going to our base sites. Right? Right. Now what? Now is where the fun begins.
Because we've built such a good base of sites for our clients site, we can do all kinds of fun things. First off we can get more money from our current client. We can offer either of the following:
• A second website like BestTacomaPlumber.com that we build and rank.
• A second website in a surrounding area NeighboringCityPlumber.com
And now we're making money from the building of a website $1,000-3,000, plus an additional 50-75% of the monthly charge. And of course if you've been paying attention it should be REALLY EASY to rank a second website. As simple as building it and adding new links/blog posts to your 25 base sites. It's almost like free money really.
Now a second reason we've built that base up is because it now becomes easier to take on a second client. Let's ask Bob if he can recommend an electrician to us. Now chances are if we got an electrician client we wouldn't need to build as large of a base of sites, and could possibly rank with just the sites we already have. But, go ahead and build another 5-10 with the emphasis on Electricians. You've cut down on your work load tremendously for the next site.
Every time you build up a base site, you're building up your internet real estate. This real estate becomes more valuable as time goes by. Now you could use this to keep your clients hostage. I don't really believe in that. If they abide by their contract, I'll maintain their links. I usually get a monthly retainer fee to keep them that more than covers hosting, domain name fees. Between $95-295/mo.
As you build your network of base sites, you'll end up with thousands to tens of thousands of pages indexed. It becomes MUCH easier to rank all of your next clients. You should always be thinking what piece can I add to the puzzle to get a broader base. Let's say I take on a plumber in Miami. I might use my links in Tacoma first while I build up my Miami base sites, and then eventually pull the links from the Tacoma sites.
It will be much easier to get citations for your Google Places listings because you OWN the citation sources. So, let's say I get a client for Seattle Used Cars. I can find 50 blogs in my network to build a citation to their listing. They count pretty well too as long as you're careful of mirroring the listing of the Places listing exactly in your blog post.
I can also use my network to help index any new links I produce to a client. Let's say I build a link to Seattle Used Cars on a static html site, I can fool around with trying to get it linked by pinging it, or I can just use a blog post to point to the site, use the RSS feed to get the link indexed.
You can start selling links on your network of sites. If you've got hundreds of sites, and many of them will end up PR2-4, you can start getting between $50-100 a month for your sites, which will quickly add up(I don't do this generally).
Here's another cool thing you can do once you have your empire setup. Let's say you want to get a new client. Want to know an easy way to get one?
Find a client who is spending big money already, on yellow page ads, billboards, whatever but that is not showing up well in the searches. Send them a Fedex package to the owner, with a short note inside. I would take a picture of the first page of the Google Rankings. I would write in Red Sharpie, there are 10,000 people a month who look for you here. Check this on Friday, I'm about to change that for you. Marcos 888-888-8888.
Then create some easily changeable links on your network(blogroll works nicely). If you've built it right, and you have hundreds of base sites, you can brute force their site right to the top in 24 hours or less. Now you take another picture of their site at the top of the page, and fax it to them. I circle their site in sharpie, and say this: "To Don: Hope you like the look of this better. Call me 888-888-8888 Marcos"
At least 50% of them will call, and you can get most of them as clients. I would explain what I did was a temporary thing, but I can make it a permanent thing for the low cost of $1-2k a month. Of course your costs will be very minimal as you have the base set up already. Maybe get an outsourcer to add a handful of sites for you.
Alternatively it becomes very easy for you to rent sites or sell leads. And if you're really looking progressively you can do licensing or joint ventures with further clients. I have a few niches where we handle everything from the marketing to appointment setting for a percentage of revenue.
Well, I hope some of you have gotten some ideas and inspiration from this. I'll be travelling extensively over the next few weeks so I may or may not be able to get to every question on this post so be patient with me. I've laid it all out on the table exactly how to build an empire that will pay you for years to come.
To your success.
Marcos